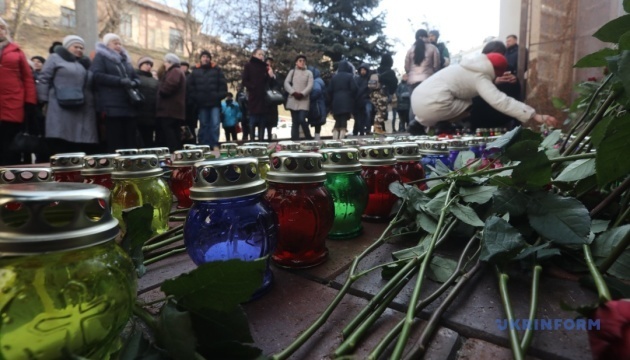 Activists light 176 candles near Iran's Embassy in Kyiv
About 50 activists have held a memorial service near the Embassy of Iran in Kyiv during which they lit 176 candles and laid red roses to mourn citizens of six countries killed in the sky over Iran, according to an Ukrinform correspondent.
"We came here because 40 days have passed since the lives of 176 people ended to honor their memory and remind the Iranian authorities that the evil has not yet been punished," activist Alla Ihnatchenko told reporters.
The participants in the rally said that they had gathered in response to a call on social networking sites. While talking to each other and journalists, they spoke about the need to punish those responsible for the tragedy.
A Ukraine International Airlines Boeing-737, performing flight PS752 en route from Tehran to Kyiv, was shot down by two rockets shortly takeoff from the Tehran airport.
The disaster took the lives of all 176 people on board - 167 passengers and nine crew members. Citizens of Ukraine, Iran, Canada, Sweden, Afghanistan, and the United Kingdom were killed in the tragedy.
op