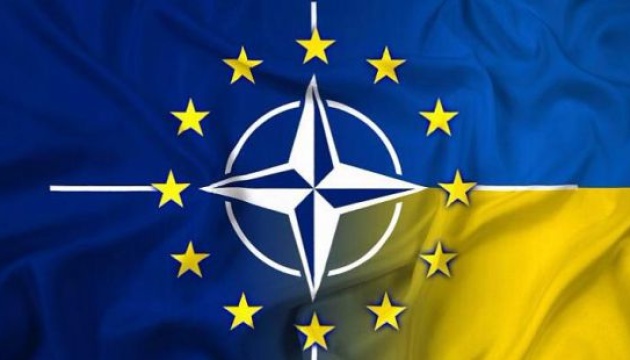 Over 60% of Ukrainians support accession to European Union, 51% - joining NATO
In December 2019, more than 60% of Ukrainians chose the accession to the European Union as a vector of country's foreign policy orientation.
This is evidenced by results of the nationwide survey conducted by the Ilko Kucheriv Democratic Initiatives Foundation jointly with the Razumkov Center, which were presented during a press conference at the Ukrinform news agency on December 26.
"In recent years, the public opinion on the choice of foreign policy orientation has been stable. Thus, in December 2014, 57% of respondents chose joining EU and 16% - joining the Customs Union; in December 2015 - 59% and 13%, respectively; in December 2016 - 58% and 11%; in December 2017 - these figures were 59% and 11%; last year - 59% and 12.5%; and in December 2019, 64% of the polled chose joining the EU and 13% - the Customs Union," the results reveal.
At the same time, the majority of the population believes that accession to NATO would be the best option for guaranteeing Ukraine's security. This view, according to the research, is supported by 51% of Ukrainian citizens (46% last year) while 1.5% of respondents hope for the military alliance with the United States.
In general, 44% of Ukrainians believe that the country is on the right path.
The survey was conducted from December 13 to December 18, 2019 in all regions of Ukraine except Crimea and the occupied territories of Donetsk and Luhansk regions. The theoretical sampling error does not exceed 2.3%.
ol