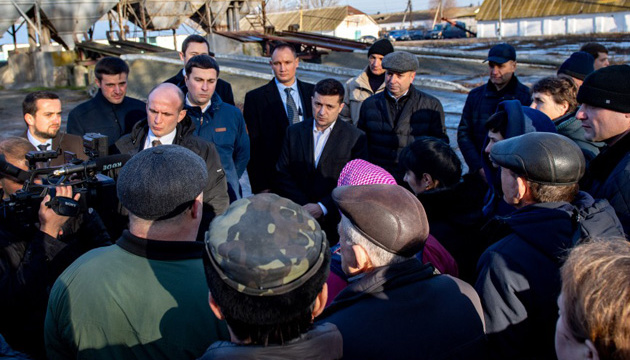 67% of Ukrainians trust Zelensky – poll
The approval rating as of mid-December 2019 is headed by Ukrainian President Volodymyr Zelensky, who is trusted by 67% of respondents and distrusted by 25%, according to a poll conducted by the Rating Sociological Group during December 13-17.
At the same time, 36% of respondents said they completely trusted Zelensky and 31% said they rather trusted him.
Some 28% of those polled trust Verkhovna Rada Chairman Dmytro Razumkov and 44% do not trust him. Holos party leader Svyatoslav Vakarchuk is trusted by 28% and distrusted by 59%. Opposition Platform - For Life party leader Yuriy Boiko is trusted by 23% and distrusted by 58%, Prime Minister Oleksiy Honcharuk – by 22% and 44% respectively, and Batkivshchyna party leader Yulia Tymoshenko – by 19% and 74% respectively.
According to the poll, over the past two weeks, the level of satisfaction with the work of President Zelensky has increased from 53% to 62% (22% completely satisfied, 40% rather satisfied), and the level of dissatisfaction has decreased from 33% to 25%.
The activity of Parliament Speaker Razumkov satisfies 36% of those polled and does not satisfy the same percentage. A quarter were unable to rate his work. Some 29% positively assessed the parliament's work, 51% assessed it negatively, and 21% could not evaluate it.
A similar trend is observed in the estimates of the work of the government. Relatively more people are satisfied with the activities of Prime Minister Honcharuk than with the work of the Cabinet of Ministers. In particular, 35% are satisfied with Honcharuk's activity (35% dissatisfied, 30% undecided) and 29% are satisfied with the Cabinet's work (45% dissatisfied, 25% undecided).
In addition, a third of Ukrainians surveyed believe that President Zelensky's actions were more successful than unsuccessful during the year. Some 41% said that the actions of the head of state were equally successful and unsuccessful. Only 14% said that his work was accompanied by failures.
The survey was conducted by the Rating Sociological Group during December 13-17, 2019 among the population of Ukraine aged 18 years and older via face-to-face interviews. The sample is representative of age, gender, region and type of settlement. A total of 2,500 respondents were interviewed. The poll's margin of error does not exceed 2%.
op