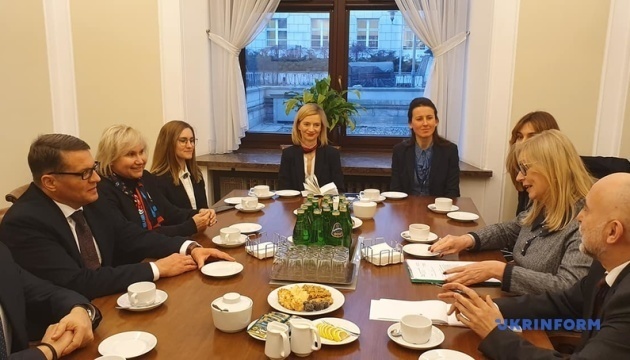 Poland's Sejm initiates parliamentary support for Kremlin prisoners
Deputy Marshal of the Sejm of the Republic of Poland Małgorzata Gosiewska has offered to support Ukrainian political prisoners at the parliamentary level.
She said this at a meeting with Ukrinform journalist Roman Sushchenko, a former Kremlin political prisoner, and Ambassador of Ukraine to Poland Andriy Deshchytsia, own Ukrinform correspondent reported.
"I think about organizing parliamentary support for prisoners [of Russia]. For example, at least in the form of letter-cards," she said.
According to Małgorzata Gosiewska, she follows the information about all political prisoners, including those who remain in the Russian prison.
The Deputy Marshal of the Sejm also stressed the importance of supporting the families of political prisoners - their children and elderly parents.
"As to the support for Ukraine, Ukraine's territorial integrity, Euro-Atlantic aspirations, we have no differences. Poland is constantly active in its political support for Ukraine and the release of persons illegally detained in the occupied Donbas and Crimea. We have raised these issues many times. The Sejm has approved a resolution in support of Ukraine," she said.
As reported, Roman Sushchenko was detained in violation of international rules on September 30, 2016 in Moscow, where he arrived on a private trip from Paris. On October 7, 2016, he was charged with espionage.
On June 4, 2018, the Moscow City Court sentenced Sushchenko to 12 years in a high-security penal colony. On September 12, the Supreme Court of the Russian Federation called this decision legal.
On September 7, 2019, Russia and Ukraine exchanged detainees in the 35-for-35 format. Eleven Ukrainians illegally convicted in Russia, including Oleg Sentsov, Roman Sushchenko, Oleksandr Kolchenko, Pavlo Hryb and others, and 24 sailors detained near the Kerch Strait in late November 2018 returned to Ukraine.
iy