Alibaba founder Jack Ma meets with Kharkiv students
One of the world's richest people, Chinese billionaire, Alibaba Group founder Jack Ma has met with students of the Karazin Kharkiv National University during his first visit to Ukraine.
"We need to focus on kindergartens, not universities. Don't think about the future, think about yourself. The world is changing too fast. Your main task is to remain like humans, not machines. People can create things, and it's the one and only that machines can't do," Jack Ma said during his speech, an Ukrinform correspondent reported.
The billionaire wore grey sweater and sneakers. He answered dozens of questions and, among other things, advised students not to stop after defeats.
"The most important lesson in life is to never give up. I was turned out whenever I tried to get a job. And then I decided that I had to start doing something for myself," Jack Ma said.
He also warned young people that success cannot be achieved quickly.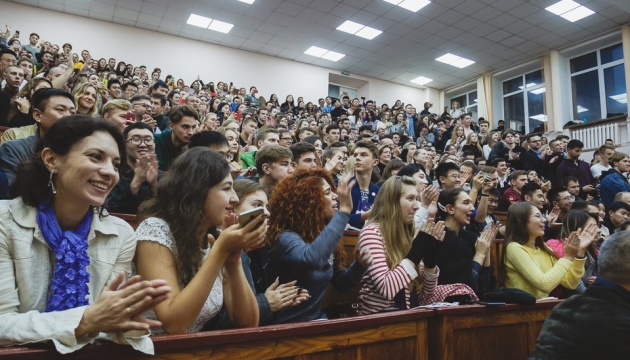 "You have to solve a problem. Then you will be successful. Many people think that success can be achieved overnight like in movies, but it is not true. Success means being optimistic, being creative and innovative. There are no experts from the future. There are only experts from the past," the billionaire said.
Jack Ma, or Ma Yun, is a Chinese business magnate, investor, politician and philanthropist. He is founder and former chairman of Alibaba Group, a multinational technology conglomerate. As of 2 February 2019, he is China's richest man, with a net worth of $41.1 billion, as well as one of the wealthiest people in the world and also was ranked 21st in the world by Forbes Magazine' World's Most Powerful People.
ol