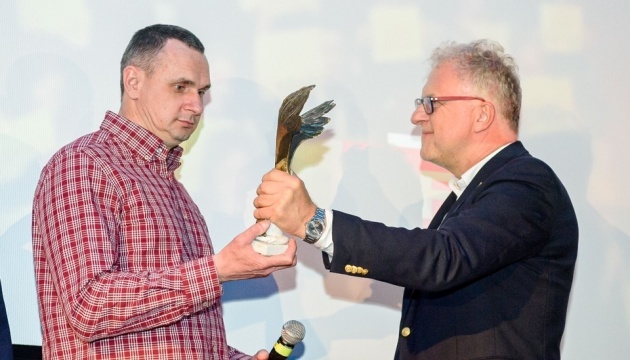 Sentsov receives Polish Film Academy award for courage and persistence
The Polish Film Academy awarded Ukrainian film director Oleg Sentsov the Eagle special prize for courage and persistence.
The award was presented by President of the Polish Film Academy Dariusz Jabłoński, an Ukrinform correspondent reports.
Speaking at the ceremony, renowned filmmaker Agnieszka Holland said that Sentsov could continue to rely on the Polish film community.
Ambassador of Ukraine to Poland Andriy Deshchytsia thanked Polish filmmakers for their support, noting that Oleg Sentsov and other Ukrainian political prisoners would not be released without constant reminder.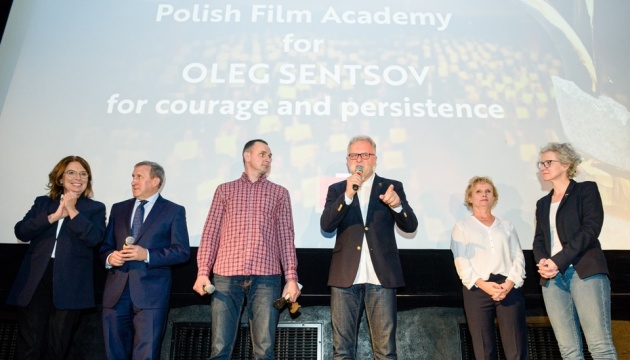 Vice Marshal of the Sejm Małgorzata Kidawa-Błońska noted that Sentsov's period of imprisonment was also a time of trial for many Poles, showing whether they were prepared to stand in solidarity with others. She recalled that it was the Polish Film Academy that had sent a message to the world about the need to support Sentsov and the Ukrainian political prisoners, and the Polish Parliament adopted a special resolution on this matter.
Sentsov thanked for the award, emphasizing that freedom is the greatest value on earth and people should be ready to give everything they have to own it.
Photo: Polskie Nagrody Filmowe ORŁY, Faceboook
ol