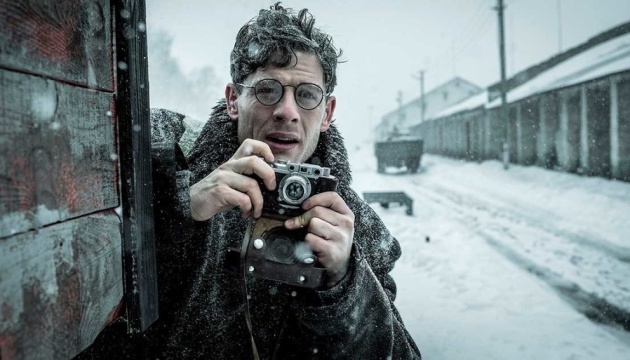 Official trailer released for Mr. Jones historical thriller about Holodomor
The Ukrainian State Film Agency presents a trailer for Mr. Jones film by Agnieszka Holland which tells a story of journalist Gareth Jones who arrived in the Soviet Union in 1933 to expose the truth about the crimes of the Stalinist regime and the Holodomor in Ukraine.
"The film is due for release on November 28," the press release notes.
Earlier, the Variety released exclusive footage from Mr. Jones.
Mr. Jones has been jointly produced by Ukraine (Kinorob with the support of the Ukrainian State Film Agency), Poland (Film Produkcja with the support of the Polish Film Institute) and the UK (Jones Boy Film), Film.Ua reports.
The project consultant was Timothy Snyder, an American historian, and writer, professor at Yale University; in his monograph Bloodlands: Europe Between Hitler and Stalin he argued a statement that Soviet and Nazi regimes killed about 14 million people on the territories of Ukraine, Poland, Belarus, the Baltics, and western regions of Russia.
The filming took place in Ukraine, Poland, and Scotland. In Ukraine, the filming took place on the biggest square in Europe located in Kharkiv; to do this, the square was closed off for some time for city residents and guests.
The other day, the film won the Golden Lion award of the 44th Polish Film Festival in Gdynia. In addition, artistic director Grzegorz Piontkowski received a special prize for the best production design.
Director: Agnieszka Holland
Producers: Klaudia Smieja, Stanislaw Dziedzic, Egor Olesov, Angus Lamont, Andrea Chalupa
Screenwriter: Andrea Chalupa
Сast: James Norton, Vanessa Kirby, Peter Sarsgaard, Joseph Mawle, Kenneth Cranham, Yakiv Tkachenko, Oleg Drach, Volodymyr Fedoruk, Anna Shaydyuk, Anastasia Chala, Alina Kovalska, and others.
The film's promotional campaign in Ukraine is based on a large-scale social-educational project of the FILM.UA Group company aiming to popularize the personality of Gareth Jones in Ukraine and the world and preserve the memory of the Holodomor man-made famine in Soviet Ukraine in 1932 and 1933.
In Ukraine, the film is released with the name The Price of Truth.
ol