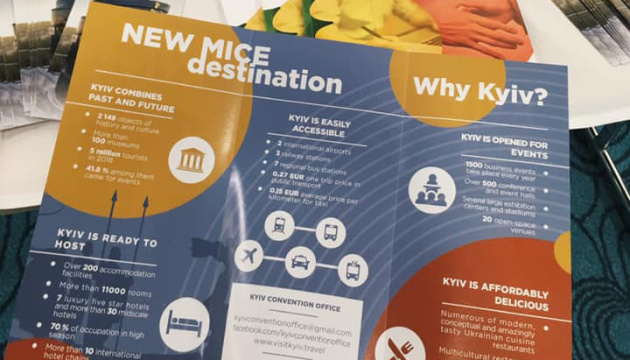 Kyiv presented in Stockholm as new destination for MICE tourism
The two-day Stockholm & Helsinki B2B Travel Show has started today in Stockholm, Sweden. Kyiv is presented as a new destination for MICE tourism.
The Tourism and Promotion Department of Kyiv City State Administration reported this on its Facebook page.
"Kyiv Tourism and Promotion Department participates in the workshop and presents Kyiv as a new destination for MICE tourism. During the workshop, tourism industry and city tourism boards representatives look for partners for further cooperation through networking. That helps to attract foreign partners from the Scandinavian and Western European regions to cooperate with Ukrainian travel agencies in order to provide tourist services, organize tourism and business events," the report says.
"We present our capital with promo material, including new «Why Kyiv?» brochure, which provides interesting information about why Kyiv should become the next destination for MICE tourism," the Tourism and Promotion Department notes.
As known, the term MICE (Meetings, Incentives, Conventions and Exhibitions) represents a sector of tourism which includes business events and activities. Meetings bring people together in one place for the purposes of sharing information and discussing and solving problems.
ish