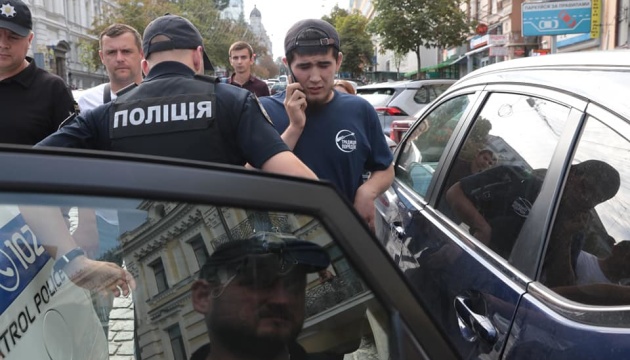 President Zelensky demands probe into attack on Ukrinform's press center
President of Ukraine Volodymyr Zelensky commented on the beating of Ukrinform workers during a news conference at the agency on July 30.
"How should I assess the situation when a person is beaten up? We create now a team that will deal exclusively with the protection of journalists. I understand that this is a very serious profession. I worked with journalists for 15 years. It is necessary to investigate and punish severely the people involved in such activity," Zelensky told reporters during a working trip to Ivano-Frankivsk, answering a question from an Ukrinform correspondent.
On Tuesday, July 30, young men dressed in T-shirts with the inscription "Tradition and Order" broke into the press center of the Ukrainian National News Agency Ukrinform, which hosted a press conference on parliamentary elections at district No. 50 in Donbas. They broke the door down, damaged a costly conference room sound system and pulled out five microphones.
Three Ukrinform employees were injured in the attack. One victim sustained an eye injury and numerous bruises.
Kyiv police opened criminal proceedings under Article 125 of the Criminal Code of Ukraine (intended light bodily injury).
ol