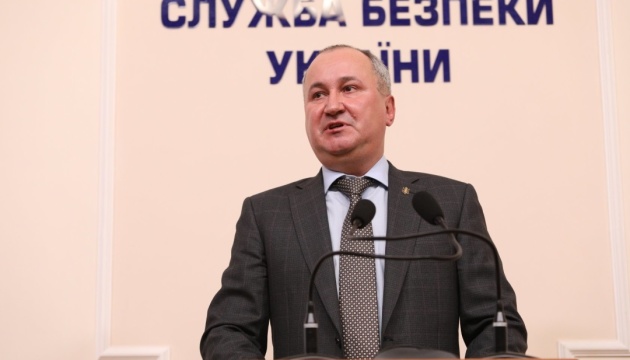 SBU thwarted 28 terrorist attacks last year - Hrytsak
Employees of Ukraine's SBU Security Service have investigated criminal proceedings against 176 Russian citizens since 2014, among them terrorists and spies.
SBU Chief Vasyl Hrytsak said this in an interview with the RBC Ukraine news agency.
"Since February 2014, our investigators have investigated criminal proceedings against 176 citizens of the Russian Federation, including ten on charges of espionage and the rest for crimes against the foundations of national security and terrorist activities. The indictments against 70 Russians have been forwarded to courts. Forty-three cases are still being considered in the courts, whereas 27 people have already been convicted," Hrytsak said.
According to him, 76 Russian terrorists were placed on the wanted list, including such odious individuals as Igor Girkin, Igor Bezler, Alexander Borodai, Mikhail Porechenkov, and others.
Hrytsak could not give an exact answer about the number of arrested Russian citizens, because this is a matter for the Prosecutor General's Office of Ukraine that accumulates information from the pretrial investigation bodies of the State Bureau of Investigation, the SBU and the Interior Ministry.
Hrytsak also said that in 2018 alone, the SBU thwarted 28 terrorist attacks, which could have taken the lives of hundreds of civilians. "The FSB and the Main Directorate of the General Staff of the Russian Armed Forces actually compete with each other in sowing interconfessional hostility in Ukraine, spreading separatist federalist sentiments among national minorities, and artificially escalating the language issue as a pretext for incitement to social discontent and the instigation of protests," he said.
In addition, the SBU in 2018 blocked more than a hundred news sites, most of which positioned themselves as patriotic and Ukrainian ones, but were administrated from the territory of the Russian Federation. All of them were aimed at deepening the already existing lines of discord in the Ukrainian society, Hrytsak said.
op