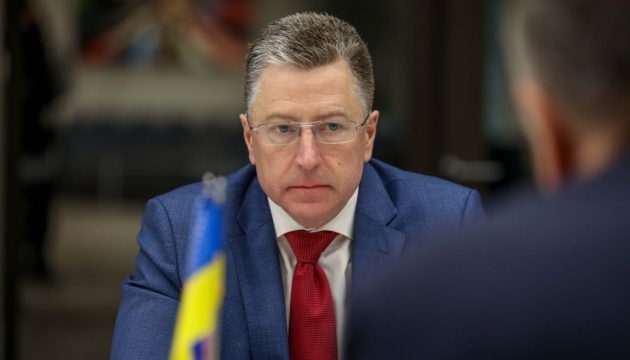 Volker calls on Russia to stop lying about causes of MH17 tragedy
U.S. Special Representative for Ukraine Negotiations Kurt Volker has called on Russia to stop the campaign of disinformation about the causes of the MH17 tragedy.
He wrote this on his Twitter account on Thursday.
"It is time for Russia to cease its lies surrounding the shooting down of MH17 and stop its callous disinformation campaign. Russia should cooperate with the investigation and adhere to UNSCR 2166 (2014) and ensure that any indicted individuals currently in Russia face justice," Volker said.
As was reported earlier, the Netherlands named four individuals involved in the downing of flight MH17. They are Leonid Kharchenko, a Ukrainian who fought on the side of the self-proclaimed "Donetsk People's Republic," Sergei Dubinsky, a colonel of the Main Intelligence Directorate of the General Staff of the Armed Forces of the Russian Federation, head of the "Main Intelligence Department of the Donetsk People's Republic," who is considered to be the organizer of the launcher's combat use; Oleg Pulatov, a lieutenant colonel of the Russian Airborne Forces reserve, involved in transportation of the Buk missile launcher and responsible for protection of the area with the wreckage of the downed aircraft; Igor Girkin, a retired officer of the Russian Armed Forces, a former FSB colonel, an active participant in Russia's armed aggression in Ukraine.
The Joint Investigation Team (JIT) probing the MH17 disaster also announced that the trial would take place on March 9, 2020.
Malaysia Airlines flight MH17, which was en route from Amsterdam to Kuala Lumpur, was shot down over Donbas in July 2014. There were 283 passengers and 15 crewmembers on board the plane. All of them died.
In September 2016, the JIT said it had been established on the basis of irrefutable evidence that the plane had been shot down by a 9M38 Buk missile launched from the territory controlled by pro-Russian militants in the eastern part of Ukraine. In addition, the JIT said on May 24 that the Buk missile system from which the aircraft was downed belongs to the 53rd Anti-Aircraft Missile Brigade of the Russian Armed Forces stationed in Kursk.
In May 2018, the Netherlands and Australia officially stated that they hold the Russian state legally responsible for the downing of MH17.
U.S. Secretary of State Michael Pompeo called on Russia to bring to account those responsible for shooting down flight MH17 in the Donbas.
op