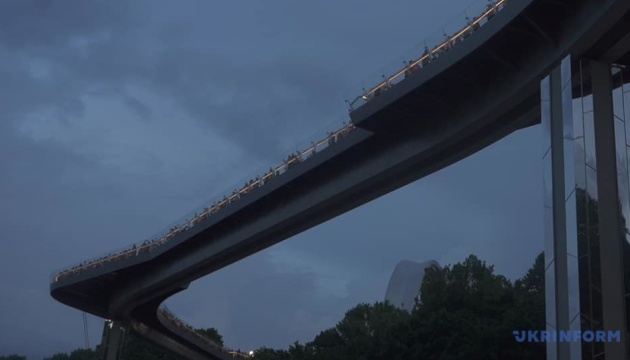 Klitschko opens pedestrian bridge in Kyiv
Kyiv Mayor Vitali Klitschko has taken part in the opening of a pedestrian and bicycle bridge connecting the Volodymyr Hill with the People's Friendship Arch, according to an Ukrinform correspondent.
The event was held on the occasion of the Day of Kyiv on Saturday, May 25. Klitschko and his younger brother, boxer Wladimir, walked on a new bridge along with hundreds of locals who came to attend a solemn event.
Klitschko presented a new bridge to Kyiv residents and told them the story about the construction of a new tourist facility in Kyiv.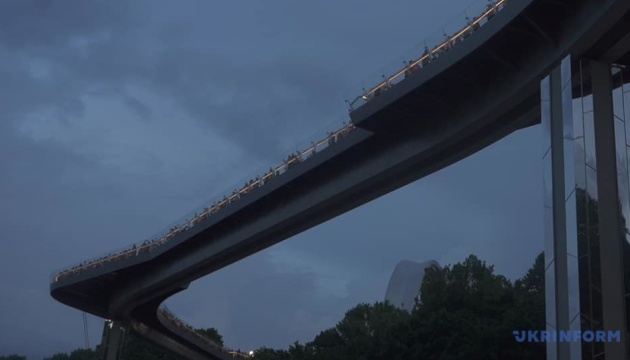 "This pedestrian bridge connects the Volodymyr Hill and the Khreshchaty Park. There were plans to build this bridge over a hundred years ago, and I am very glad that in the end we were able to realize the plans of many generations. Bridge construction lasted five months. We started in December, and now we are opening one of the most important tourist attractions at the end of May, as I promised, on the City Day. I came here almost every day and checked how the work was going on. I can clearly say that this bridge was built by the whole of Ukraine. More than a thousand workers joined the construction of this bridge. The work on this bridge united all Ukrainians. We worked 24 hours a day without a break," Klitschko said.
According to him, the construction of the bridge cost UAH 275 million, the construction of a fountain, landscaping and utility systems - about UAH 90 million, and the strengthening of slopes – UAH 55 million.
The bridge is approximately 210 meters long and from 6 to 14 meters wide. The bridge was made of concrete, iron, and glass. The architectural and planning part of the bridge construction project foresees walking and cycling paths, observation decks, modern lighting, and video surveillance