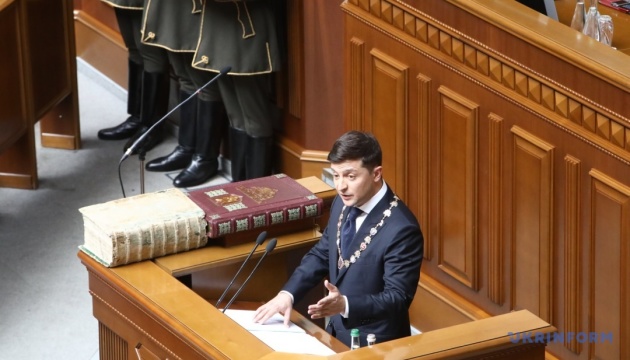 Zelensky declares villa in Italy, hotel rooms in Georgia
Ukrainian President Volodymyr Zelensky has updated his asset declaration for 2018.
A respective document has been published in the single state register of income declarations.
In particular, Zelensky declared a house in Italy with a total area of 413 square meters.
The section "Unfinished Construction Facilities" includes five hotel rooms in Georgia, jointly owned with the president's wife, Olena Zelenska.
The section "Securities" no longer contains information about shares in Megiritano Ventures Ltd (in the 2017 declaration it was stated that Zelensky owned 50,000 shares and was also the ultimate beneficial owner of Megiritano Ventures Ltd).
The newly elected president also declared eight new marks for goods and services, except for those already mentioned in the asset declaration for 2017.
As was reported earlier, in his income declaration for 2017, Zelensky declared a 353.3-square-meter residential house in the village of Ivankovychi in Kyiv region, a 131.9-square-meter apartment in Kyiv, as well as two apartments in Kyiv, which he co-owns with Serhiy Shefir and Borys Shefir (453.1 square meters), two parking spaces, and a land plot (1,200 square meters).
At the same time, the media reported that Zelensky owns a 15-room villa on the coast of the Italian resort of Forte dei Marmi, but no reference to the villa was made in Zelensky's income declaration for 2017.
In response to an appeal from the Chesno movement to publish an asset declaration for 2018 before the second round of presidential elections, Zelensky's election team said that the declaration for the past year "will be filed within the time limits set by the current legislation and made public in accordance with the current legislation."
op