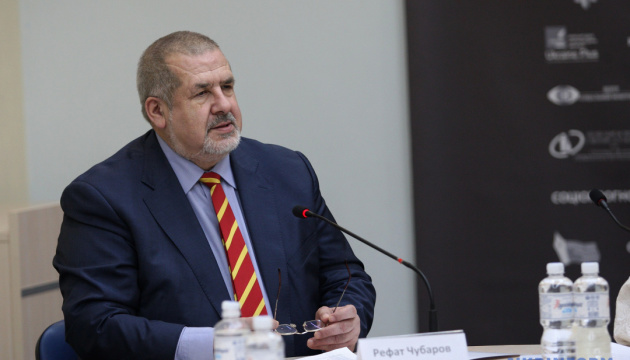 Victims of deportation of Crimean Tatars commemorated in Kyiv
Commemoration of the victims of deportation of the Crimean Tatar people is essential to prevent the recurrence of such catastrophes.
Chairman of the Mejlis of the Crimean Tatar people, member of the Parliament of Ukraine Refat Chubarov said during an event in Kyiv organized to honour the memory of the victims of deportation of Crimean Tatar people in 1944, an Ukrinform correspondent reports.
"In accordance with the resolution of the Verkhovna Rada of Ukraine, May 18 is marked as the Day of Remembrance of the Victims of Genocide of Crimean Tatar People. The Parliament recognized in its resolution the crime of deportation as the genocide committed by the Soviet authorities... This year, a series of events will be held in Kyiv and in many Ukrainian cities and regions where the Crimean Tatars live. Apparently, it is not only a sincere act of respect, although it is very important, it is also our need to hold such events in order to avoid recurrence of such catastrophes as Holodomor, Holocaust, and deportation in the future," Chubarov said.
The Crimean Tatar activists plan to hold mourning events separately from the Russian occupation authorities in the occupied Crimea on May 18, he added.
In turn, leader of the Crimean Tatar people Mustafa Dzhemilev recalled that the day of deportation was a tragic, terrible event that could lead to the death of the whole people. However, the Crimean Tatars managed to create an unprecedented large-scale national movement to return to their homeland.
According to Dzhemilev, the events dedicated to the 75th anniversary of the deportation will be held in many countries. In particular, this date will be honored at the state level in Turkey on May 21.
As known, the Soviet regime massively deported representatives of the indigenous people of Crimea - Crimean Tatars - to Siberia and Central Asia in 1944. According to some calculations, Crimean Tatars lost almost half of their population during the deportation and in the first years of living on foreign land.
ol