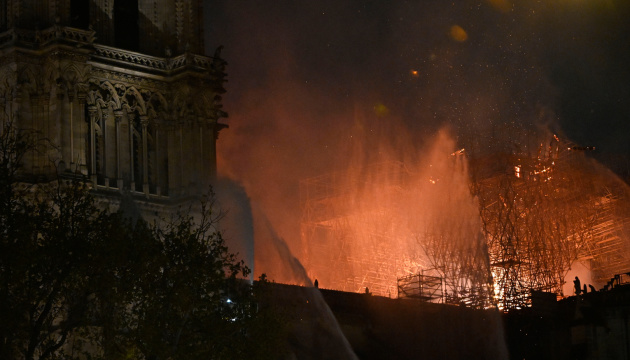 Ukraine ready to help restore Notre-Dame Cathedral
Ukraine is ready to help France restore Notre-Dame de Paris - one of the most famous historical monuments in the French capital – which suffered significant damage in a fire, Ukrainian Culture Minister Yevhen Nyschuk has said.
"This is a huge blow to history and culture not only of Paris, but also of the whole of Europe and the world," he wrote on his Facebook page.
The task of the Ukrainian Culture Ministry is to preserve for future generations all cultural and historical monuments and heritage possessed by Ukraine, Nyschuk said.
"We as a country that is losing its heritage in the occupied territories know as nobody else how painful it is to watch that live. We hope that firefighters will be able to save an extraordinary monument and not let it disappear from the cultural map of the world. I would like to stress from myself that we are ready to send as soon as possible our best specialists and restorers for the work on the restoration of the Cathedral!" the minister wrote.
The Notre-Dame Cathedral caught fire on the evening of Monday, April 15. The cause of the fire is not yet known, but preliminary reports point to a possible connection with restoration work that was carried out at the cathedral.
op