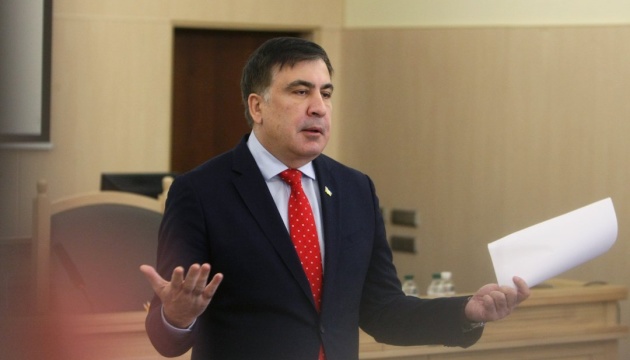 Border guards respond to Saakashvili's plans to return to Ukraine
Ukrainian border guards are not planning to let Mikheil Saakashvili, one of the leaders of the Movement of New Forces, enter Ukraine, Oleh Slobodian, an aide to the head of the State Border Guard Service, has told an Ukrinform correspondent.
"This person [Saakashvili] is not a citizen of Ukraine, and there are no grounds for his entry into Ukraine until 2021," Slobodian said.
He recalled that last year Saakashvili was expelled from Ukraine and banned from entering the country until 2021.
Earlier, Saakashvili said in an interview with journalist Dmytro Gordon that he planned to return to Ukraine in the near future.
First Deputy Chairwoman of the Verkhovna Rada of Ukraine Iryna Gerashchenko believes that Saakashvili's attempts to return to Ukraine will lead to chaos.
"Now they are announcing a new [destabilization plan] for April 1. Disorder, chaos, and aggression. They say that no border guard will dare to stop a new provocation," Gerashchenko wrote on Facebook.
According to her, people who humiliated Ukrainian border guards and broke through the Ukrainian border "seek revenge, and our border and our defenders are just observers for them."
Gerashchenko also recalled that the war in Donbas began in 2014 precisely because of the breakthrough of borders, attacks on border guards and the involvement of local elites.
On September 10, 2017, Saakashvili broke into Ukraine from Polish territory without passing border control from the Ukrainian side.
On February 12, 2018, he was deported to Poland.
op