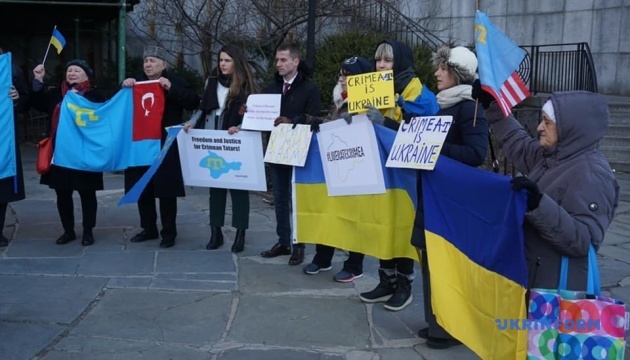 Rally against Russia's occupation of Crimea held outside UN headquarters
A rally against the illegal annexation of Crimea and in solidarity with the Crimean Tatars and Ukrainians, who have lived under Russia's occupation of the peninsula for five years, has been held outside the building of the UN headquarters in New York, according to an Ukrinform correspondent.
"With our action here we demonstrate solidarity with many Ukrainians and Crimean Tatars who cannot freely express themselves in occupation. We want to be their voice here and show that they are not alone. We are here. We have not forgotten and will not forget you!" said the organizer of the rally, Ayla Bakkalli, a representative of the Mejlis of the Crimean Tatar people in New York.
She also pointed to ongoing massive violations of human rights by the occupation authorities on the peninsula, despite numerous UN resolutions condemning these violations and demanding that they be stopped.
Bakkalli recalled that the so-called "referendum" in Crimea in no way reflected the real state of affairs and evidence of that was the massive campaign of resistance by the Crimean Tatars and Ukrainians in front of the building of the Crimean parliament on February 26, 2014.
Activists were holding Ukrainian and Crimean Tatar flags with the inscriptions "Putin, Get Out of Crimea!", "Freedom and Justice for Crimean Tatars!", "Crimea is Ukraine", "Free Oleg Sentsov", "Crimea, We Are With You!" Protesters also chanted "Crimea is Ukraine!", "We do not recognize illegal annexation!" and a slogan in the Crimean Tatar language "Qirim! Vatan! Millet!" ("People! Homeland! Crimea!")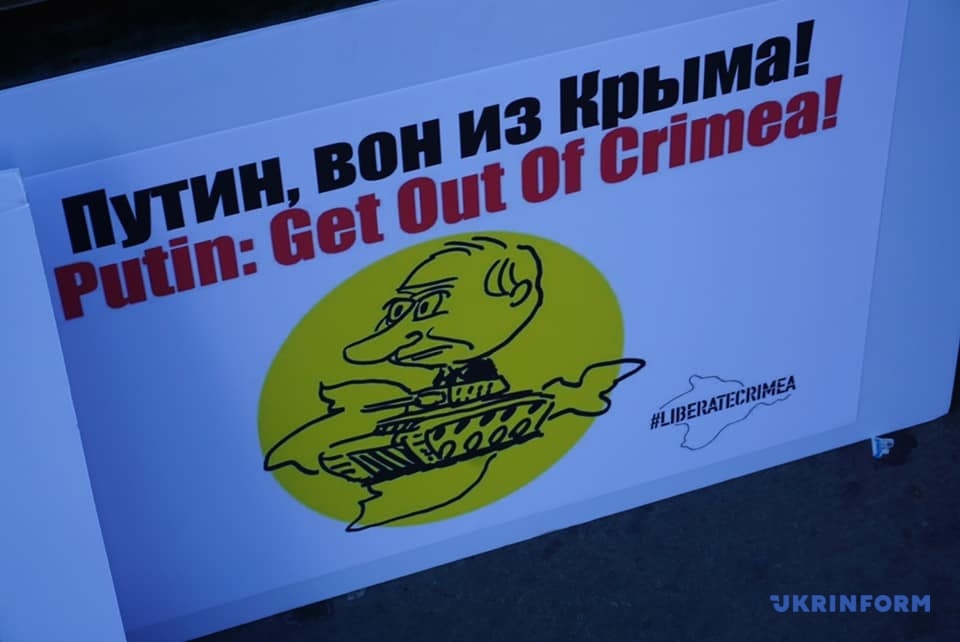 A peaceful protest outside the UN headquarters was organized by the American Association of Crimean Tatars, the Ukrainian Congress Committee of America, the World Federation of Ukrainian Women, and the Razom for Ukraine organization.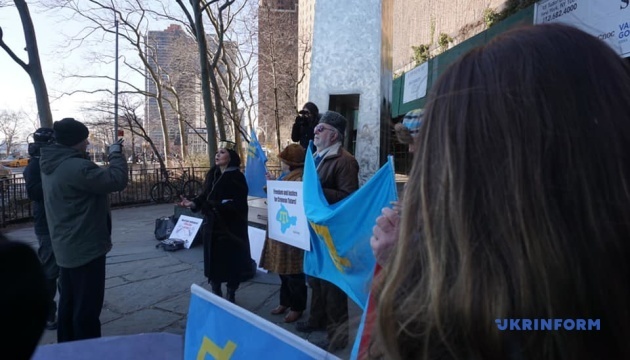 The Day of Crimea's Resistance to Russian Occupation was marked on February 26. Five years ago, on February 26, 2014, thousands of Crimean Tatars and pro-Ukrainian activists gathered in Simferopol in support of the territorial integrity of Ukraine and against the holding of an extraordinary session of the Crimean Supreme Council.
op