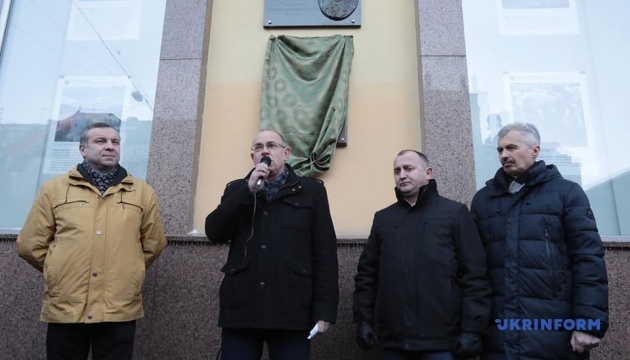 Memorial plaque unveiled for Dmytro Dontsov in Kyiv
A memorial plaque has been unveiled on the facade of the building of the Ukrinform National News Agency of Ukraine in honor of Dmytro Dontsov, the first head of the Ukrainian Telegraph Agency (UTA).
According to an Ukrinform correspondent, the memorial plaque was unveiled by the director general of the news agency, Oleksandr Kharchenko, and journalist Serhiy Kvit in the presence of representatives of the authorities, people's deputies, and the public.
"We are now returning historical memory, and today is an important day in this return. We are opening a memorial plaque dedicated to an outstanding figure in Ukrainian history - Dmytro Dontsov. This fantastic person was a thinker, a philosopher, a historian, a publicist. At the same time, he had one more role in the history of the Ukrainian state - he served as head of the first state news agency under Hetman Skoropadsky. So this plaque is being unveiled on the facade of the building that currently houses the historic heir of the UTA – Ukrinform," Kharchenko said at the ceremony.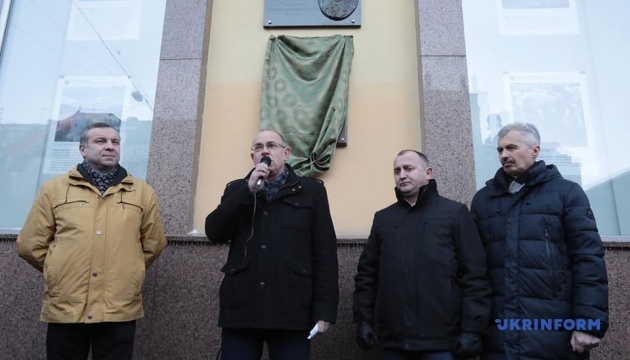 The Ukrainian Telegraph Agency is a historic predecessor to the modern Ukrinform National News Agency of Ukraine. From May to November 1918, the Ukrainian Telegraph Agency was headed by Dmytro Dontsov, a public figure, a philosopher, a journalist, and a literary critic. At the same time, he was the head of the State Press Bureau, which coordinated the activities of printed publications. The UTA and the State Press Bureau were located at 25 Khreshchatyk Street in Kyiv. The memorial plaque for Dontsov was made with the patronage of Roman Piniazhko.