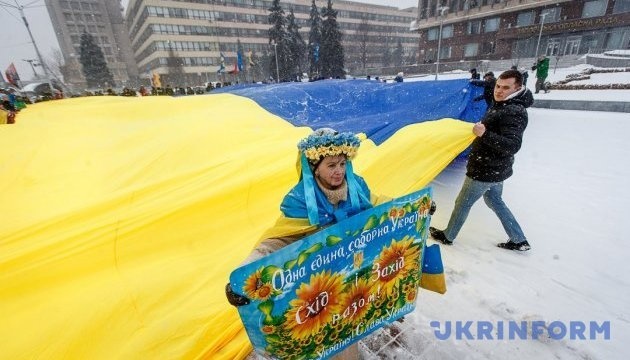 UWC on Day of Unity calls upon Ukrainian diaspora and people of Ukraine for unity and cooperation
The numerous challenges faced by Ukraine today require Ukrainians throughout the world to unite and cooperate.
President of the Ukrainian World Congress (UWC) Paul Grod said this in a statement on the occasion of the Day of Unity.
"In the wake of the serious challenges being currently faced by Ukraine, the Ukrainian World Congress calls upon the Ukrainian diaspora and the people of Ukraine for unity and active cooperation in maintaining the integrity of the Ukrainian state which remains our most important responsibility today," the UWC's president stated.
He assured that the main priority of the UWC was "full support for Ukraine".
"The newly-elected UWC leadership is prepared to constructively cooperate with the governing authorities, political parties and civil society of Ukraine, first and foremost on the issues related to restoring the territorial integrity and sovereignty of Ukraine, realizing the European and Euro-Atlantic aspirations of the Ukrainian people, and the development of Ukraine as a successful European state," Grod said.
According to him, it is important for the UWC to "create conditions and continue work on the return to Ukraine of migrant Ukrainians, and to strengthen the cooperation and unity of the Ukrainian people in Ukraine and the diaspora."
"Today, when for the fifth year the Ukrainian territories of Crimea and Donbas remain under Russian occupation, and on the Eastern borders of Ukraine military aggression continues, we, as never before, are aware of the importance of the unity of Ukrainian lands, and the spiritual-religious and national unity of the Ukrainian people," the UWC stressed.
As reported, Ukraine marks the Day of Unity on January 22, the day when the Ukrainian People's Republic (UPR) and the Western Ukrainian People's Republic (WUPR) signed a Unification Act in 1919.