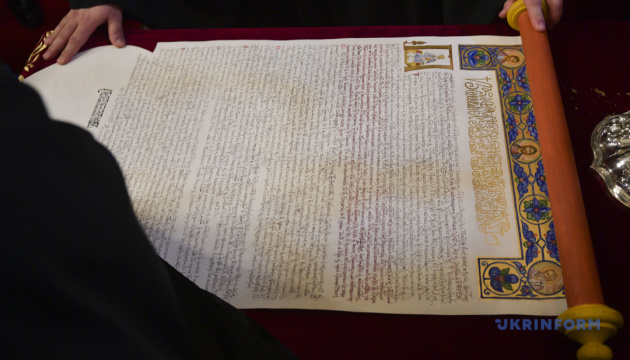 Ecumenical Patriarchate publishes text of tomos for Ukraine
The Ecumenical Patriarchate has published the text of the tomos on the granting of autocephaly to the Orthodox Church of Ukraine.
The text of the document was published in English, Greek, and Ukrainian on Monday, January 14.
"We recognize and declare this Autocephalous Church, established within the boundaries of the sovereign territory of Ukraine by means of this signed Patriarchal and Synodal Tomos, as our spiritual daughter, and recommend that all Orthodox Churches throughout the world acknowledge and commemorate it by the name 'Most Holy Church of Ukraine' with its see in the historic city of Kyiv, without being henceforth entitled to establish bishops or found extraterritorial altars in regions already lawfully dependent on the Ecumenical Throne, which bears canonical competence over the Diaspora, but instead restricting its proper jurisdiction within the territories of the State of Ukraine," the document says.
On January 5, Ecumenical Patriarch Bartholomew signed a tomos of autocephaly of the Orthodox Church of Ukraine. On January 6, the Patriarchal Church of St. George in Istanbul hosted a tomos handover ceremony and a Divine Liturgy that was concelebrated by Ecumenical Patriarch Bartholomew and Head of the Orthodox Church of Ukraine, Metropolitan of Kyiv and All Ukraine Epiphanius.
In Ukraine, the tomos was first demonstrated at a festive divine liturgy at St. Sophia Cathedral in Kyiv on January 7.