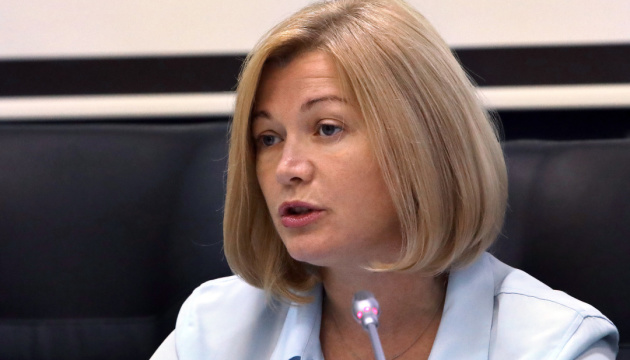 Ukraine proposes exchanging detainees on Jan 5 – Iryna Gerashchenko
Ukraine proposes exchanging hostages and captives from temporarily occupied territories of Donetsk and Luhansk regions and from Russia in the "72 for 19" and "22 for 22" formats on January 5. A respective proposal has already been sent to the OSCE.
First Deputy Speaker of the Verkhovna Rada of Ukraine Iryna Gerashchenko wrote this on her Facebook page following a meeting with Yevhen Marchuk, Ukraine's representative in the Trilateral Contact Group, and members of the TCG's humanitarian subgroup (experts from Ukraine's SBU Security Service and Ministry for Temporarily Occupied Territories and Internally Displaced Persons).
"The Ukrainian side has sent another proposal to the OSCE. We carefully analyzed all the lists and are ready to pardon and transfer 72 separatists to ORDLO [certain areas of Donetsk and Luhansk regions] in exchange for 19 hostages held in occupied territories. Ukraine is ready for a broader compromise - for the sake of the liberation of our guys - and demonstrates it in practice. We are ready to immediately pass to Russia 22 of its citizens who were detained and convicted in Ukraine [...] We propose releasing the detainees in the '22-22' and '72-19' formats on January 5 so that 150 people could celebrate [Orthodox] Christmas at home, go with their families to the church and pray for peace," Gerashchenko wrote.
In this regard, she said, Ukraine sent the OSCE the proposal to hold a videoconference of the humanitarian subgroup on December 27 in order to discuss the release of hostages and political prisoners.
Gerashchenko recalled that on December 27, it is also scheduled to hold a videoconference and a meeting of the TCG's security subgroup.
"It would be great to agree on the release and the ceasefire regime," she said.