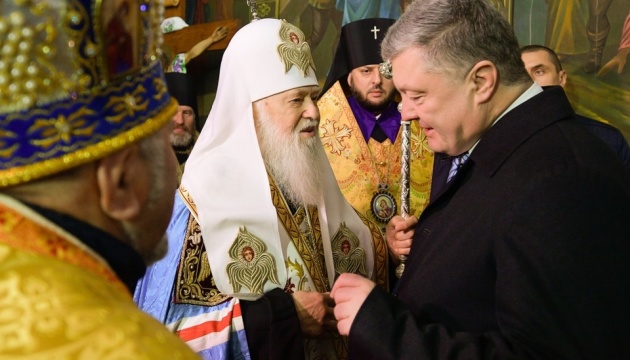 Poroshenko thanks Filaret for efforts to create autocephalous Orthodox Church
Ukrainian President Petro Poroshenko has thanked Bishop Filaret for his sacrifice and efforts to create the autocephalous Orthodox Church of Ukraine.
He stated this in Ternopil region on Tuesday, according to an Ukrinform correspondent.
"This [autocephaly] has become possible thanks to His Holiness, Patriarch Filaret. Where else can you find a more vivid example of sacrifice, when personal ambitions are thrown away for the cause of the church and the state, as demonstrated by His Holiness?" Poroshenko said.
The head of state stressed that without the sacrifice, efforts and prayers of Bishop Filaret, autocephaly would not have been granted to the Orthodox Church of Ukraine.
Poroshenko also expressed gratitude for participation in the creation of a new church to Bishop Makariy and the leaders of Orthodox churches in Ukraine who signed an appeal to the Ecumenical Patriarch with the request to provide autocephaly, as well as to priests, laity, the Verkhovna Rada and all Ukrainians.
The unification council of the local Orthodox Church of Ukraine took place at Saint Sophia Cathedral in Kyiv on December 15. The clergy elected Metropolitan Epifaniy as the head of the new Orthodox Church of Ukraine. He will receive a tomos (decree) of autocephaly in Istanbul on January 6 after a joint liturgy.