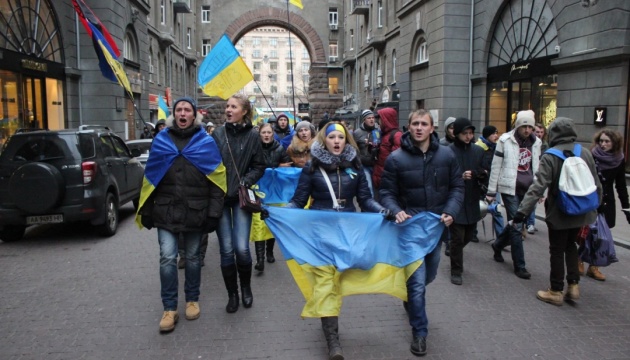 Five years since Euromaidan: it was worth it
If we remember how bad it was and how worse it could have been
Each anniversary of Euromaidan, be it the date of the protests' beginning or the date of their tragic and bloody ending, discussions arise whether it was worth it. Some people, especially outside Ukraine, may often suggest it was not. Generally speaking, the fact of such discussion is healthy and essential for the country to move forward. Euromaidan dates are a good moment to reflect on what has been done and what has not. These dates are reserved for Ukrainians to try to persuade each other so that pessimists would acknowledge some of achievements, optimists admit some of hard truths, and realists - which I consider myself - to recount a number of facts.
I was one of those few hundred people in the evening of November 21, 2013, on Independence Square in Kyiv, known as "Maidan," to protest Viktor Yanukovych's decision to postpone an association agreement with the EU. Here is what I wrote in my Facebook before leaving home:
"I know that many of my friends are tired of politics and as thoughtful people cannot trust any current politicians. I share your feelings. But now it is the case when we have to take to the streets not for someone else, but only for ourselves. Not because it will or will not change anything, but to simply show that no one is allowed to use us as a doormat. It is still possible now. Soon it can turn already pointless like in Russia."
https://www.facebook.com/goshatikhiy/posts/622852851111307
Since that night it felt like one never-ending nightmare and my life has changed forever. In that time I would be close to dying in the war while fulfilling my journalistic duties. Situation went down the spiral from worse to even worse. Three months in freezing temperatures with Yanukovych's regime constantly upping the ante, first beating, than kidnapping, than killing the protestors. Miraculously, it led to an eventual victory of protests but also Russia's immediate military intervention under a trumped-up pretext. Ukraine was caught in the moment having a totally dysfunctional government and armed forces of a quantity of few thousand combat-ready troops lacking even fuel to leave bases. Annexation of a part of the territory followed. Beginning of the war in Eastern Ukraine happened while Ukraine still didn't have neither armed forces nor even an elected president. By rules of a good nightmare, whatever terrible could happen, has happened.
Five years later, some ask: "Was it worth it?" It squeezes a sardonic laughter out of me. What exactly are we proposed to measure the worth of? The worth of surviving when chances were close to zero? Sorry for surviving then!
A more reasonable part of discussion is evaluating what has been done and what has not been done in terms of changing Ukraine for the better in these five years. It is common now in Ukraine to set the war aside and ask hard questions as if there was none. Although in my view, it is obvious that the war does make it more difficult to achieve transformation of the country for the better. However, difficult questions should be faced regardless of war.
Many seem to not understand that Ukraine can be at the same time already much better than it was and still not as good as we want it to be. I believe it is realistic to view the general picture this way. People asking why Ukraine has not become in these five years a corruption-free, modern open economy state with GDP growth exceeding 7-10% (simultaneously with fighting a deadly multifaceted war of survival against Russia) need to take their pink glasses off. I agree that the bar should be high to achieve result. But the bar should also be realistically high.
What is true is that while some spheres have changed a lot in Ukraine, some have not. While Ukrainian civil society has grown tremendously over these five years, Ukrainian political class has mostly barely changed. While the country has conducted a number of tough, robust and painful economic reform of a kind that few states managed to go through in the last decade, the economy is still not open. While Ukraine has established the most scalous anti-corruption infrastructure in the region, it is still in the process of completion, and it will take time to see robust result. While Ukraine managed to create capable Armed Forces, there are still challenges to the defense sector as well as Soviet mentality that has to be overcome.
A land of paradoxes some would say. My point though is that there is no paradox. Ukraine is undergoing a civilization transformation, the scope of which is still difficult to evaluate from being inside the process. Hence all the pain, difficulty, illusions and disillusionment, victories and losses, emotions, outrage, patriotism that sometimes boils over the top, black-and-white evaluations that range from a doom-and-gloom despair to upbeat pride of achievements. It is difficult to not lose touch with reality in such circumstances. However, one should not lose logic when analyzing the scope and meaning of this transformation.
We could be simplifying the general picture and drowning in depressing conclusions that, for example, corruption is still there five years after the protests. However, it would be legitimate to do so if it was only corruption that was at stake over the past five years. What was at stake though except corruption is Ukraine's entire sovereignty. Ukraine's existence as an independent state. The fact that it was not lost under circumstances that were, mildly speaking, unfavourable, is a tremendous achievement, to put it in softly. Furthermore, the fact that Ukraine, in which I mean Ukraine as a country, not simply Ukrainian leadership, managed to save its sovereignty is what makes us able to discuss corruption, ways to fight it, obstacles to it, bitter failures on this path as well as some achievements that would not be possible five years ago.
In terms of civilizational transformation, Ukraine has managed to achieve landmark results that would not be possible several years ago. Ukraine has signed the Association Agreement with the EU and managed to overcome obstacles to its implementation, such as the Dutch referendum to block it. Ukraine has used benefits of the free trade agreement with the EU and negotiated a number of similar deals with other countries to reorient its trade from Russian dominance in 2013 to making Russia a minor trading partner in 2018 compared to the West. For this, hundreds of ties had to be broken which is an economic shock in itself. Ukraine has managed to stabilize the economy after losing around 20% of GDP and 25% of industrial produce in 2014 due to war in the industrialized region of Donbas. Ukraine has managed to hold three fair and open elections in this time. Ukraine has managed to fulfill criteria and conduct needed reforms to receive visa-free travel with the EU. Ukraine has managed to implement some anti-corruption reforms that already save the country's budget around 6 billion dollars per year, according to the recent research. Ukraine has managed to turn the debt-producing state energy giant Naftogaz into the biggest contributor to the budget. Ukraine has managed to almost completely cut decades-long energy dependence on Russia, having stopped buying Gazprom's gas three years ago. Ukraine has managed to win over Gazprom in international courts, making it owe Ukraine more than 2 billion dollars. Ukraine has managed to raise utility bills, which is as enormously needed to fight graft, as it is terribly painful for personal budgets of many Ukrainians. Ukraine has managed to create a new corruption-free patrol police, National Anti-Corruption Bureau, Specialized Anti-Corruption Prosecutor's Office that have been launching cases against people in the highest seats that would have been considered "untouchables" before. Ukraine is in process of establishing an independent Anti-Corruption Court that many doubted would be established even a year ago. Ukraine has managed to negotiate an independent Orthodox Church, breaking spiritual ties with Moscow. And last but not least, Ukraine has managed to not lose in the war. It has also managed to create from scratch one of the most capable Armed Forces in the region. It has also managed to break out of an unspoken arms sales embargo that has prevented it from receiving weapons to defend itself for the first four years of war. Now it has already got the U.S. anti-tank missiles, U.S. patrol boats, Canadian sniper rifles, Turkish combat drones as well as developing its own middle-range missiles, armored boats, machineguns and other assets.
There are a number of things that have been desired by Ukrainians that Ukraine has failed to achieve for now. Notably, the most problematic issue is justice. With a justice system which is still largely dysfunctional, it has not convicted any real big fish for corruption. It has not yet convicted anyone for the crimes committed during protests at Maidan, although trials are ongoing. On a number of occasions, Ukrainian law enforcement fails to protect activists from attacks, provide security during protests, act to protect minority rights. Reforms of prosecution and the ministry of internal affairs have failed for now to profoundly change the old system inside those institutions. Reform of justice has brought some fresh blood into the system but also let the old corrupt personalities get back in. Shameful initiatives such as unreasonably strict income declarations for NGOs and attempts to brand them "foreign agents" continue. The resistance of the old guard to reforms and attempts to block anti-corruption infrastructure do continue too. Although the civil society mostly wins battle after battle in this struggle, the fact of such resistance is already shameful.
And yes, both tendencies can take place at the same time. There is not only no paradox to it, but actually no surprise. These are symptoms of a painful civilizational transformation that the country goes through. This is the path all modern prosperous nations of the West had to go through many years ago before becoming what they are now. Focusing on failures solely and closing eyes at achievements or vice versa is therefore missing the point. With such a scale of events and transformations it will take more years to be able to draw a line and brand Euromaidan a success or a failure in simple terms.
Most of the obstacles to change come from two problems: old political class and paternalism. It is worth mentioning that Ukraine did not have any new political class ready to replace Yanukovych neither at the beginning of the protests, nor during them, nor after Yanukovych was ousted. Some tender green leaves of it have only begun to form in the last few years and it will take some more years for the new Ukrainian politicians to take hold on power to make the big qualitative changes many crave for. This is neither good nor bad, but simply a reality that has to be taken into account.
But looking back at the past five years asking "Was it worth it?" simply does not resonate with me. Euromaidan could not have not happened. Generational shift of the post-Soviet era was what provoked it. The new generation has grown up to the ability to protest and play a role in changing the country. It has not grown up to take the cabinets of authority yet. It will take time to see it happen. However, in the last five years Ukraine has not only managed to survive as a sovereign nation and an independent state with chances of it happening close to zero. It has also managed to achieve some tremendous changes in a number of spheres. Maybe that is why some other where there is a lack of reforms seem so painful to our eyes? I prefer to remain an optimist and believe those spheres will see change as well. At least my predictions that some outside observers constantly called "optimistic" have all fulfilled for now. I don't see a reason they will not in the future. And this makes me sure that at the end of the day these five years have changed Ukraine for the better in the face of challenges no nation faced in decades.
Heorhiy Tykhy, Kyiv