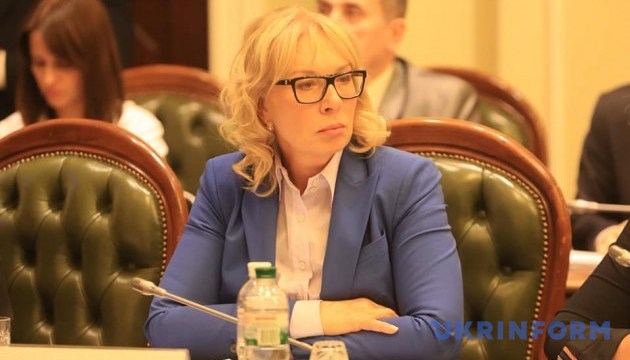 Denisova confirms release of seven Ukrainian sailors from Crimea
Verkhovna Rada Commissioner for Human Rights Liudmyla Denisova has confirmed that seven Ukrainian sailors illegally detained in Russian-annexed Crimea have returned to mainland Ukraine.
"Seven citizens who were illegally detained in Crimea have returned to [mainland] Ukraine! Now they are already going home. The issue concerns three crewmembers of the YaMK-0041 vessel, Serhiy Kalynychenko, Oleh Blok and Ruslan Skrypnyk, and four crewmembers of the YaOd 21-05 ship, Oleksandr Lyseniuk, Hennadiy Onhurov, Oleh Ivashchenko and Viacheslav Ivasenko," she wrote on her Facebook page on Tuesday, October 30.
According to her, since May, the Ukrainian side has been working relentlessly on the return of the sailors. "They took away their passports, which made it impossible for Ukrainians to return home. In mid-October, I again substantiated the legal requirements to return illegally held fishermen to Ukraine and appealed to the Federal Security Service," she said.
Denisova also said that this was not the exchange of Russian sailors for Ukrainian citizens, as reported by the Russian media: "The sailors of the Nord vessel, who today also returned to Crimea, freely moved through the territory of Ukraine. Nobody held them, unlike Ukrainians in Crimea."
Earlier, an aide to the head of the State Border Guard Service of Ukraine, Oleh Slobodian, told Ukrinform that Russia had created an illusion of sailors' exchange because nobody in Ukraine detained crewmembers from the Crimean vessel Nord and they could travel to Russian-occupied Crimea at any time.
On Tuesday, Russian media, referring to the press service of Russian human rights commissioner Tatyana Moskalkova, said that seven Ukrainian sailors from the YaMK-0041 had been swapped for seven sailors from the Crimean ship Nord.
On March 25, a Ukrainian sea guard ship detained the Nord seiner in the Sea of Azov. On March 30, the court arrested the vessel. The captain of the Nord, Volodymyr Horbenko, was served with a notice of suspicion of committing a criminal offense on counts of the violation of the order of entry into and exit from the temporarily occupied territory of Ukraine. Later, he was suspected of illegal fishing activities.
The Ukrainian ship YaMK-0041 was detained by Russian border guards in the Black Sea near Cape Tarkhankut on May 4. Fishermen had their fishing nets and fish seized. The ship and the crew were taken to the territory of the annexed Crimea.
op