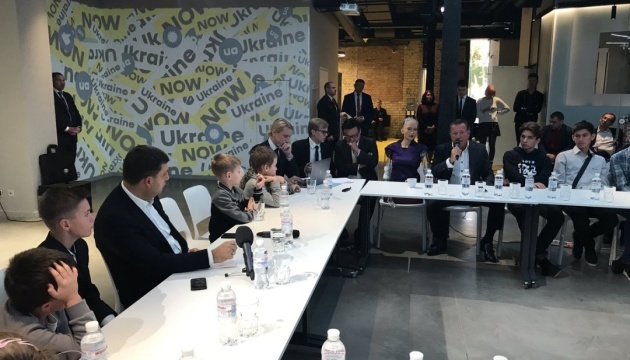 Groysman wants to create Ukrainian analogue of social robot Sophia
Ukrainian Prime Minister Volodymyr Groysman stresses the need to develop domestic robotics and move away from practice when Ukrainian technologies are used in manufacturing of products owned by other countries.
Groysman said this during a meeting with young innovators, who presented their developments in the field of robotics, with participation of social robot Sophia, an Ukrinform correspondent reports.
"Ukraine has quite a serious intellectual potential. Ukrainian companies have contributed to many developments of the most popular final products in the world. There are technologies that have been created in Ukraine, but now they are part of a final product... We ourselves should create this product in Ukraine, and Ukraine should own this product. It is very important," Groysman emphasized.
Робот Софія. #RobotSofia pic.twitter.com/an0QQ4bcYe

— Volodymyr Groysman (@VGroysman) 11 октября 2018 г.
Volodymyr Groysman also talked to social robot Sophia, who has visited Ukraine for the first time. In particular, the PM asked Sophia if she knew something about Ukraine.
"Ukraine possesses a quarter of all black soil reserves on the planet. The world's first largest cargo aircraft 'Mriya' was developed by the Ukrainian design bureau 'Antonov'. The first Constitution in the world also appeared in Ukraine, back in 1710. Composer Mykola Leontovych from Ukraine wrote the most recognizable and high-demand musical piece 'Shchedryk'," the robot answered.
ol