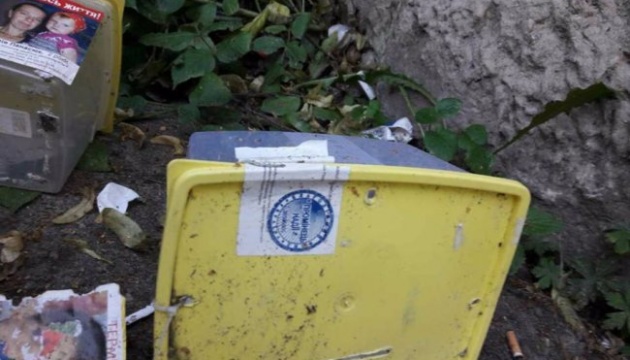 Seventy percent of Ukrainians donate funds to charity
Seventy percent of Ukrainians donated funds to charity at least once a year, and one in four threw funds into donation boxes.
Director of the Ukrainian Philanthropists Forum Paulina Niukhina said this at a roundtable discussion at Ukrinform, referring to the results of a survey.
"According to the survey conducted at the end of 2017 among a thousand Ukrainians, only 30% of Ukraine's population did not participate in charity at all. The remaining 70% did it in one way or another, and 23% threw money into the box. The average amount of these donations was 50 hryvnias," Niukhina said.
According to her, 23% of respondents said that they do not trust fundraisers and charitable foundations. According to Niukhina, one of the reasons for such distrust of society is the insufficient transparency of funds and the absence of reporting on used funds.
"The foundations, unfortunately, do not always understand that reporting is mandatory, but our legislation does not say in what form it should be like. Unfortunately, many understand this reporting as just a photograph of the checks," she said.
The second reason, in her opinion, is the lack of cooperation between state bodies and philanthropists.
Inspector of the Public Relations Department of the Patrol Police in Kyiv Serhiy Bahalika, in turn, said that there was currently no statistics in Ukraine on cases of fraud during the collection of charitable donations. However, law enforcement agencies are trying to control the situation, and in case of suspicion, the police can check the necessary documents from people who collect funds.
Bahalika advised citizens who want to engage in charity to provide targeted assistance.
"If a person gives money, he or she must be completely sure that the funds are targeted. I have always recommended citizens how to behave with people who ask for money - if a person needs clothing or food, it is better to give them [clothing and food] than donate money," he added.
According to Bahalika, the concern of society and public control will help solve the situation with fraudsters in charity.
According to Iryna Hutsal, Director of the Ukrainian Philanthropic Marketplace, another quick way to earn money for fraudsters is to raise funds for charity through online websites.
"Another convenient tool that helps quickly collect a huge amount of money is the transfer of funds to bank cards. This is often used by scammers, because these funds are very difficult to control," she said.
Hutsal is convinced that one way to prevent fraud in charity may be to create common mechanisms of interstate regulation between the state and the public.
"We do not have to wait for the police or the state to do something. We must create our own organizations and control the philanthropic sector," she said.
op