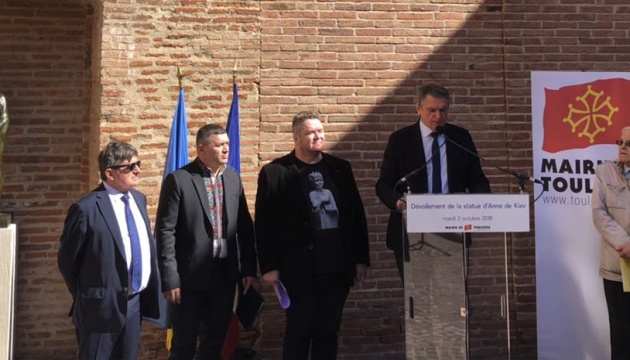 Monument to Anne of Kyiv unveiled in Toulouse
A monument to Anne of Kyiv, the daughter of Grand Prince of Kyiv Yaroslav the Wise, the wife of King Henry I of France and the regent of France in 1060-1065, has been unveiled in the French city of Toulouse.
The opening ceremony took place at the Saint Pierre Square on Tuesday, October 2, Ambassador of Ukraine to France Oleh Shamshur posted on Twitter.
Спільно з делегац. мерії Києва відкрили ще один пам'ятник Анні Ярославні - в Тулузі. Бронзова скульпт. київської князівни передана в дар Тулузі від Києва на знак побрат.зв'язків, які єднають міста з 1970р. Тепер цей пам'ятник прикрашає одне з історичн.місць міста - площу Сен-П'єр pic.twitter.com/oB6CqgzMdN

— Shamshur Oleh (@Shamshur_O) 2 октября 2018 г.
"Together with the delegation of the Kyiv City State Administration, we opened the monument to Anne of Kyiv in Toulouse. The bronze statue of the Kyiv princess was donated from Kyiv to Toulouse in sign of sister-city ties that have been uniting the cities since 1970," he wrote.
It is already the second monument to Anne of Kyiv unveiled in France. The first was opened in Senlis in 2005.
ol