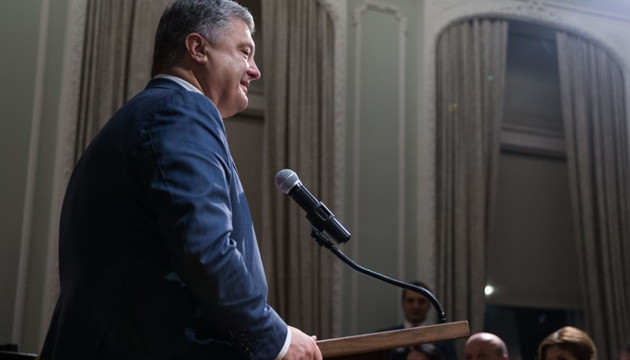 Russia has already begun to pay for crimes - Poroshenko
Russia blocks in every way the decision of the UN Security Council to deploy a peacekeeping force to Donbas as it has fear caused by the fact that it begins to pay for its crimes.
Ukrainian President Petro Poroshenko said this at a meeting with representatives of the Ukrainian community in New York on Tuesday, according to an Ukrinform correspondent.
"Today I had the honor to speak at the peacekeeping forum. Together with our great friend Mrs. Chrystia Freeland [Foreign Minister of Canada] we strongly emphasized the demand to deploy a peacekeeping mission to Donbas with the mandate of the UN Security Council," he said.
Poroshenko noted that on the first day of the general debate he "talked a lot" with official representatives of the member states of the Security Council, including the United States, regarding the deployment of UN peacekeepers to Donbas.
"Everyone is 'for' [the deployment of a UN peacekeeping mission], except for Russia. It is afraid. It is already beginning to pay for sanctions, for crimes, and it became possible because we have great solidarity," he said.
The General Debate of the UN General Assembly with the participation of heads of state and government began at UN headquarters on Tuesday. The Ukrainian delegation is headed by President Poroshenko.
op