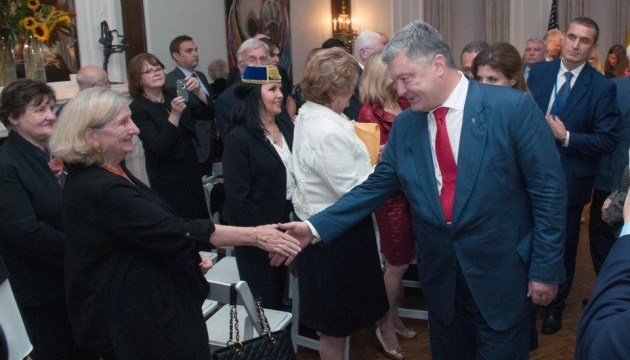 Poroshenko meets with Ukrainian community in U.S.
Ukrainian President Petro Poroshenko and his wife, Maryna Poroshenko, have met with the leaders of the Ukrainian community in the United States during a working visit to the U.S., the press service of the head of state has said.
Poroshenko thanked the Ukrainian community of the United States for their strong support for the joint struggle for freedom and independence of Ukraine and congratulated Ukrainians on the 27th anniversary of Ukraine's independence.
"Please accept my deep gratitude as president not just for today's meeting, but for these long four-and-a-half years of our joint struggle. Nothing would have worked without you, because your role is absolutely crucial in shaping global solidarity in support of Ukraine. In every part of the world, wherever I came, Ukrainians stood side by side with me and secured a firm position in all countries of the world. They ensured the unity of the world and solidarity with Ukraine," Poroshenko said.
He added that such unity and solidarity would remain a guarantee of Ukraine's victory.
"We upheld our independence in 1991, but we continue the centenary struggle for our freedom," Poroshenko said.
The head of state noted that it is extremely honorable for him to meet with representatives of the Ukrainian community today and he always feels their reliable support. He emphasized that the Ukrainian nation stands in defense of the independence of the sovereignty and territorial integrity of the Ukrainian state, as well as in defense of freedom and democracy.
"We are returning Ukraine to the family of European peoples. We are saying a final farewell to the Soviet Union, the Russian Empire, and to others who tried to keep us in the status of a colony," he said, adding that fighters of the Ukrainian Insurgent Army (UPA) and the participants of the national liberation struggle in Ukraine fought for these values.
According to him, the thorny path of struggle of the Ukrainian state for independence and freedom inspires the modern generation for new accomplishments. He stressed that significant changes are taking place in Ukraine, and the effectiveness of the reforms that are being conducted in the face of Russian aggression against Ukraine is recognized by all of its international partners.
op