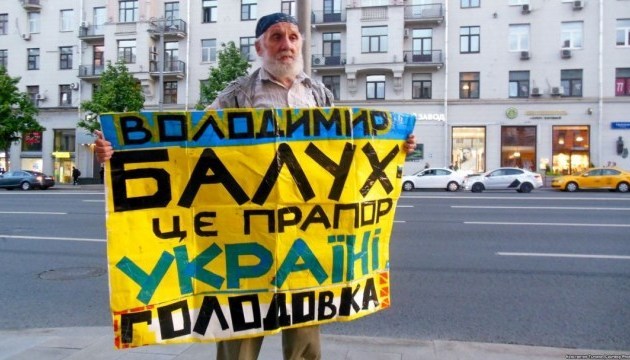 Simultaneous protest action for liberation of Sentsov and Balukh held in Chicago and Moscow. Photos
A number of protest actions demanding to stop Russia's aggression in Ukraine and Syria and to immediately release Ukrainian political prisoners, in particular Oleg Sentsov and Volodymyr Balukh, took place in Chicago and Moscow on September 23.
Russian activist Vera Lavreshina told about this simultaneous protest action, the Crimea.Realities portal reports.
The activists note it is needed to "unite efforts" to stop the aggression of Russian "regime" and to prove the facts to submit them to the international courts.
"We believe we will succeed if we keep faith in ourselves, our strength and hope for the possibility of prompt changes, which now still seem to be illusory," Lavreshina said.
As reported, the Federal Security Service of Russia detained Volodymyr Balukh on December 8, 2016. The FSB officers claimed that they had found 90 cartridges and several TNT blocks in the attic of his house.
March 14, the Kremlin-controlled Supreme Court of Crimea changed the verdict in the case of Ukrainian activist Volodymyr Balukh. The court excluded the paragraph on purchase of ammunition from the verdict and sentenced the activist to 3 years and 5 months of imprisonment in a penal colony settlement and fined him about UAH 4,600. Balukh's defense team and human rights defenders say that he is a victim of repression for his pro-Ukrainian position – Ukraine's flag in the courtyard of his home. Balukh went on a hunger strike on March 19, 2018.
Sentsov was detained by Russian security services in Crimea in May 2014. He was sentenced to 20 years in a penal colony in Russia for alleged "plotting acts of terrorism." On May 14, 2018, he declared a hunger strike demanding the release of all Ukrainian political prisoners of the Kremlin.
ol