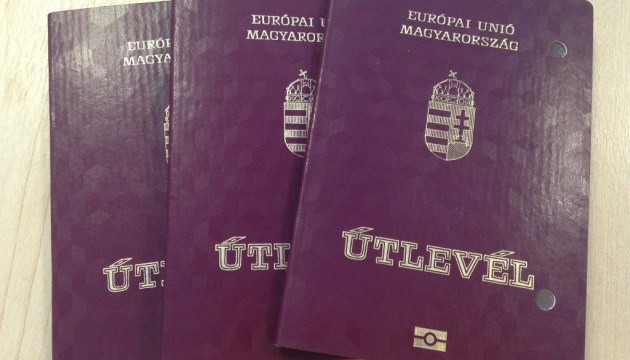 Ukrainians receiving Hungarian passports in Zakarpattia region
Hungarian passports are being issued to Ukrainian citizens in Hungary's consulate in Berehove, Zakarpattia region. The procedure is accompanied by a glass of champagne in honor of a second citizenship and instructions - not to notify the Ukrainian authorities about the receipt of documents.
At the same time, Ukrainian citizens loudly swear allegiance to Hungary.
Ukrinform received from its own sources a video recording of the specified procedure.
"I swear that I consider Hungary as my homeland. I will be a loyal citizen, defend and serve Hungary. Let God help me," Ukrainian citizens repeat the oath three times, against the background of the Hungarian flag.
After the anthem, the owners of new Hungarian passports receive instructions from Hungarian diplomats. "Hide from the government institutions of Ukraine the fact of obtaining Hungarian citizenship," a Hungarian diplomat says.
Ukrinform asked the Hungarian Consulate in Berehove, in accordance with the law, to comment on this information, in particular to confirm or refute the fact of Hungarian passports being issued to Ukrainian citizens, as well as the fact of providing respective recommendations.
The written request still remains unanswered, and the attempt to contact the institution by phone was unsuccessful.
At the same time, the Hungarian Embassy in Kyiv, where we sent a similar request, confirmed the receipt of the letter to an Ukrinform correspondent, but declined to comment.
"We sent your request to our ministry. They might answer if they want," an embassy employee replied in Russian, stressing that she does not speak Ukrainian.
op