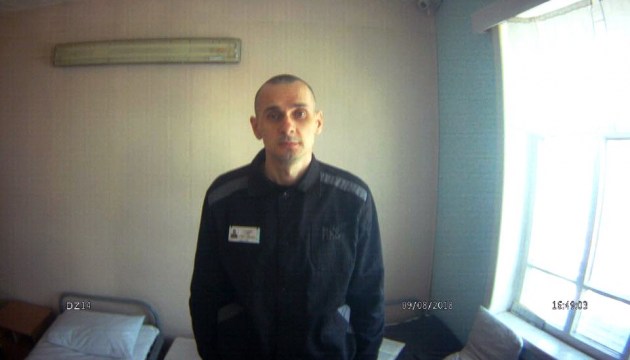 French artists, officials call for Sentsov's release
Well-known French artists and officials, including French Minister of Culture Francoise Nyssen, as well as film directors Jean-Luc Godard and Ken Loach, have written an open letter calling for the release of Oleg Sentsov and international mobilization to accelerate this process.
The text of the letter was published by Le Monde.
"Since art knows no boundaries, since art is universal, the rights of those who create it must be the same. Freedom of expression and freedom of creation cannot stop when dissidence begins. But today the director is dying, because he is a dissident. His life is under threat because of his ideas, as was the case with Vasily Grossman, Solzhenitsyn and others under the communist regime," reads the letter.
It says that Sentsov has been held in Russia for more than four years and sentencing of him to 20 years imprisonment by a Russian military court, after a trial that "has clearly not respected the right to defense, is a violation of international law and basic standards of justice." "His only true crime is a demonstration of freedom of speech, the ability to express his political beliefs through his art, isn't it?" reads the letter.
The letter contains the call to "act quickly" since the filmmaker's health is deteriorating.
"Not to act is to allow Oleg Sentsov to die. It means to give up our values and our principles, to give up what we defend. This means to agree with the fact that a person can be killed for his ideas, thoughts, position," reads the letter.
The authors propose that the international community join the call for Sentsov's release.
"An urgent need is for Russia to find in this situation not only a humanitarian but also a political solution. Not only France (President Emmanuel Macron provided several proposals that President Vladimir Putin promised to answer), but the entire international community, from the EU to the UN, must mobilize to get these answers," the letter said.
The letter was signed by the Society of Dramatic Authors and Composers (SACD), the Civil Society of Multimedia Authors (SCAM), the Guild of Authors, Directors and Producers (ARP), the Film Producers Society (SRF), the Association of Francophone Directors (ARRF, Belgium), and Le Theatre du Soleil.
On August 10, French President Emmanuel Macron had a telephone conversation with Russian leader Vladimir Putin. The French leader expressed his concern about the health of Ukrainian film director Oleg Sentsov and proposed options for a humanitarian solution to the situation.
Russian journalist Victoria Ivleva said on Sunday that a plane with Sentsov aboard flew out of Salekhard at 23.00 on Saturday, August 10. She also expressed hope that he would be taken to Kyiv. However, this information was false.
op