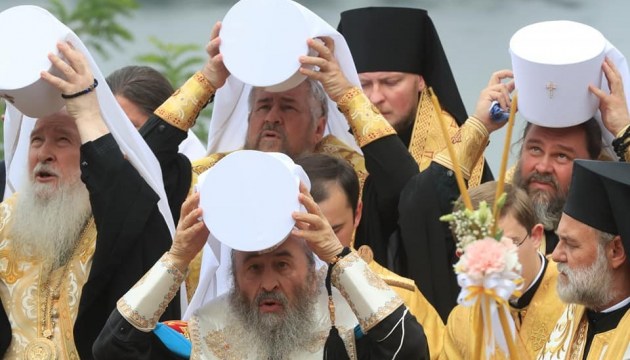 UOC-MP holds religious procession in Kyiv
A religious procession of the Ukrainian Orthodox Church of the Moscow Patriarchate (UOC-MP) has ended in Kyiv without any incidents. The pilgrims marched from Saint Volodymyr Hill to the Kyiv-Pechersk Lavra monastery.
According to an Ukrinform correspondent, the column was led by a security police patrol. In particular, several police cars, as well as a car with the inscription "bomb disposal service," were used.
The column was also accompanied by police officers with dogs. Law enforcers constantly checked flower beds located along the route of the column. National Guard servicemen were deployed along the route of the procession.
On the way to the Kyiv-Pechersk Lavra, UOC-MP Head Onufriy laid flowers at the monument to Hero of the Heavenly Hundred Mikhail Zhiznevsky, who was killed on Hrushevskoho Street in Kyiv on January 22, 2014 during clashes between the security forces and EuroMaidan activists.
Earlier, the UOC-MP held a prayer service on Saint Volodymyr Hill. In addition to the clergy, the event was attended by Opposition Bloc MPs Yuriy Boyko, Vadim Novinsky, Nestor Shufrych, Oleksandr Vilkul, and independent MP Volodymyr Lytvyn.
As reported, the events marking the 1030th anniversary of the Baptism of the Kyivan Rus-Ukraine will be held on July 27 and 28. A religious procession by the Ukrainian Orthodox Church of the Kyiv Patriarchate (UOC-KP) will be held on July 28.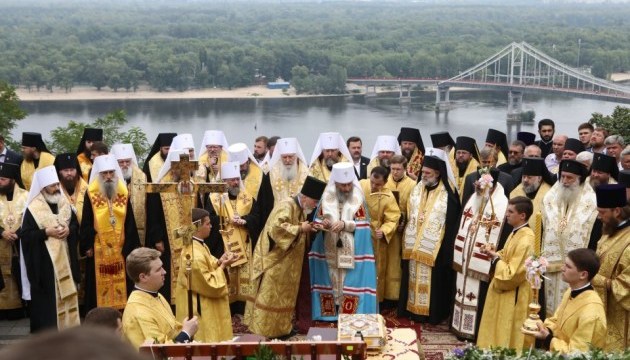 Ukrainian President Petro Poroshenko will take part in the celebrations on July 28.
op