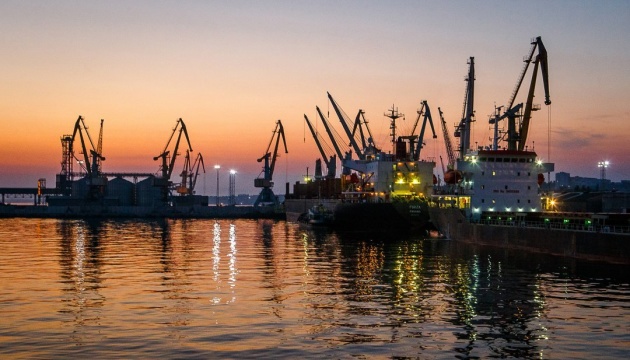 Russia changes tactics in blocking Azov Sea
Russia has changed its behavior in the Azov Sea by starting to detain foreign ships coming through the Kerch Strait.
Oleh Slobodian, an assistant to the head of the Ukrainian State Border Guard Service, said this at a press conference on Wednesday, according to an Ukrinform correspondent.
"We are observing that the Russian Federation has changed the algorithm of its actions in the Azov Sea [...] It detains foreign ships coming to Ukraine, in the Kerch Strait, delaying the time for granting permits to pass through the Kerch Strait. There is information that the ships are detained sometimes for up to three days," Slobodian said.
According to him, it influences the economic attractiveness of Ukraine. At the same time, Slobodian said that under the international treaty the Azov Sea is a sea of domestic use for both Ukraine and Russia. It can be freely used by two parties, so formally Russia can inspect the vessels. But we "understand why it is being done," he said.
When asked whether it makes sense to terminate the specified bilateral agreement on the use of the Azov Sea, Slobodian noted that the change of the agreement is expedient when both parties intend to implement it.
"We can take such a decision unilaterally, but, in my opinion, there will be no effect from this," Slobodian said.
Head of the Center for Defense Reforms Oleksandr Danyliuk, in turn, noted that, in his opinion, the Russian side creates problems for ships entering Ukraine for pressure on it, in particular, in the issue of Ukraine's restoring water supply to Crimea. He said that due to delays foreign vessels are beginning to review their logistics in order not to enter the ports of Mariupol and Berdiansk, which creates economic problems for these cities.
"Russia creates preconditions for certain negative economic and social consequences in these cities," Slobodian added.
He noted that there is already evidence that a pseudo-organization is being created in the Mariupol port to create unrest in the city.
op