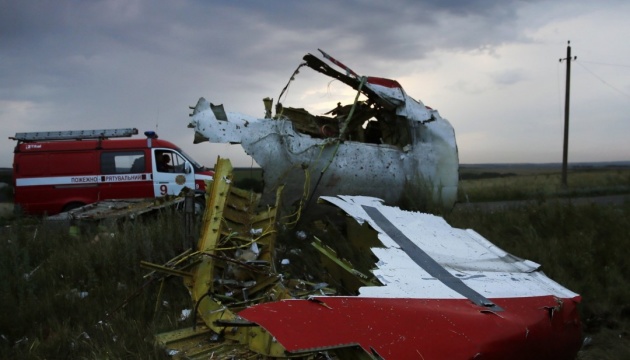 U.S. continues to blame Russia for downing MH17 - State Department
Washington has not changed its position on Russia's direct responsibility for the downing of Malaysia Airlines flight MH17 in the sky over Ukraine.
U.S. State Department Spokesperson Heather Nauert said this at a briefing on Wednesday, according to an Ukrinform correspondent.
"The United States Government has long said that Russia is without a doubt responsible for shooting down MH17," she said in response to a request to clarify the U.S. position after talks held between the U.S. and Russian presidents.
In this regard, she recalled that the U.S. side had made two statements in recent months and stressed that Washington's position had not changed since then.
"The United States has complete confidence in the findings of the joint investigation team as presented today by the Dutch public prosecutor. The missile launcher used to shoot down Malaysia Airline Flight MH17 originated from the 53rd anti-aircraft brigade of the Russian Federation stationed in Kursk," Nauert said, citing one of the statements.
She also said that "MH17 was shot down by a Russian-made surface-to-air missile fired from the territory in eastern Ukraine controlled by Russia and Russian-led forces."
Nauert confirmed that Washington strongly supports "decisions by the Netherlands and Australia to call Russia to account for its role in the July 2014 downing of the Malaysia flight MH17 over eastern Ukraine and the horrific deaths of 298 civilians."
"It's time for Russia to acknowledge its role in shooting down the plane and cease its callous disinformation campaign," Nauert said.
As reported, the Malaysia Airlines Boeing 777, which performed flight MH17 from Amsterdam to Kuala Lumpur, was shot down by militants in the sky over Donbas on July 17, 2014. All 283 passengers and 15 crewmembers on board died.
op