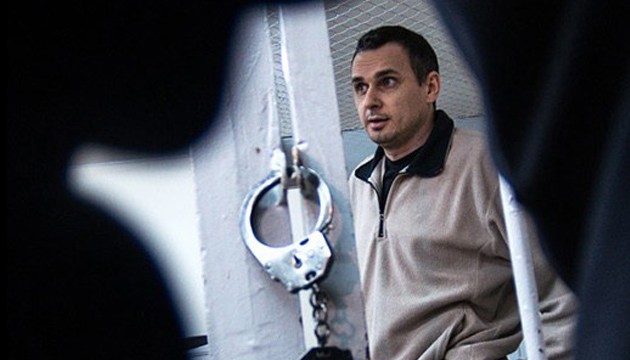 The New York Times: Sentsov deserves full support of the West
Hunger strike of unlawfully imprisoned Ukrainian film director Oleg Sentsov in Russia draws the world's attention to all the crimes of the Putin's regime which the Kremlin would like to hide amidst the World Cup soccer extravaganza.
Therefore, Sentsov deserves the full support of the West, reads the editorial of The New York Times.
"In the midst of hosting the World Cup soccer extravaganza, the last thing Vladimir Putin wants to be reminded of is human rights, Crimea or Ukraine. That's a good reason to raise the case of Oleg Sentsov, a Ukrainian filmmaker who has been on a hunger strike for more than a month in a remote Siberian penal colony, to remind the Russian president that his costly sport show does not wipe away his government's crimes," NYT editors and journalists stress.
"Following in the best tradition of the Soviet era", Oleg Sentsov was sentenced to 20 years in prison. He said he was beaten into a confession. During Sentsov's trial, the main witness against him retracted his testimony, saying it was given under torture. The case has raised an international outcry. "Prominent film directors, Russian and international, declared their support for Mr. Sentsov; the European Union called the case a "breach of international law and elementary standards of justice"; on Thursday, the European Parliament passed a resolution demanding the immediate release of Mr. Sentsov and the other Ukrainian prisoners," the article reads.
The Kremlin has gone on its usual counterattack. It maliciously claimed that Mr. Sentsov's bruises were not torture marks but a result of his "sadomasochism." Kremlin-allied media have cast aspersions on his filmmaking and, of course, have claimed that Western protests over his incarceration are a ploy to undermine Russia's World Cup tournament.
"No, no and no. Mr. Putin's regime alone is responsible for the assaults on Ukraine, for Mr. Sentsov's torture and phony trial," The New York Times underscores.
Mr. Sentsov is risking his life to draw attention to all this. "He and the truth he proclaims deserve the full support of the West, no matter what is going on in Russia's stadiums — or in Mr. Trump's mind," the NYT editorial board says.
ol