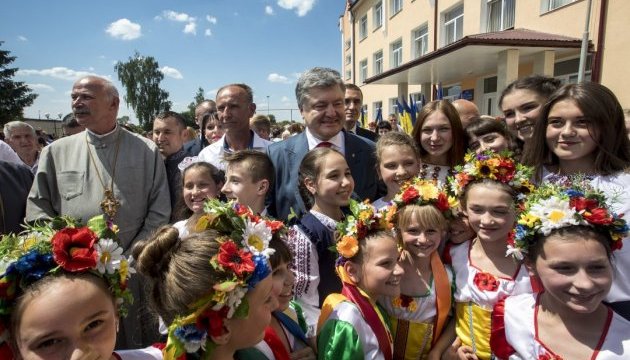 Protection of children's rights a priority in Ukraine's state policy - Poroshenko
Ensuring and protecting children's rights is a priority task of the state policy of Ukraine, President Petro Poroshenko has said.
He stated this in a greeting on the occasion of the Children's Day, which was published on the website of the head of state.
"Taking care of the younger generation, supporting the family, ensuring and protecting children's rights are the priority tasks of the state policy of Ukraine. With the joint efforts of the authorities, local government, the public and society we are creating conditions for the integral and harmonious development of children, caring about the happiness and well-being of every child," Poroshenko said.
He also drew attention to the importance of childcare reform. "The introduction of a new Ukrainian school, the improvement of the quality of medical services, the reform of the institutional care and education of children, the development of new standards for social services are an incomplete list of our actions aimed at ensuring that every child has the opportunity to grow up in the family, develop in accordance with his or her capabilities and needs, and receive the necessary support and assistance at the community level," the president said.
Poroshenko wished the children good mood, success in learning, realization of their talents and implementation of the most cherished dreams.
op