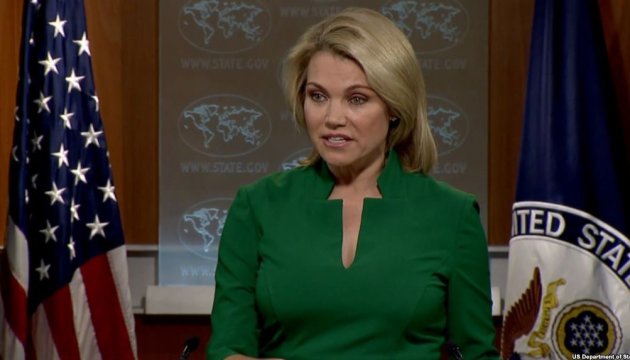 U.S. demands invaders in Crimea release Balukh
The United States insists that the Russian authorities in the occupied Crimea release Ukrainian political prisoner Volodymyr Balukh, U.S. Department of State Spokesperson Heather Nauert has said.
"Russian occupation authorities in Crimea should release political prisoner Volodymyr Balukh, who has been on hunger strike for 43 days. Unacceptable for Russia to jail a Ukrainian citizen for flying a Ukrainian flag in Crimea and deny him medical care," she wrote on Twitter.
Balukh want on an indefinite hunger strike on March 19.
A "court' in the annexed Crimea found Balukh guilty of storing ammunition and sentenced him to three years and five months of imprisonment in a low-security penal colony and awarded a fine of 10,000 Russian rubles (about 4,600 hryvnias).
Another criminal case against the activist was opened on the basis of a statement from the head of the temporary detention center in the village of Rozdolne, Valery Tkachenko, who claims that Balukh had beaten him. At the same time, the activist himself and his defense team said that it was Tkachenko who had attacked Balukh.
On March 19, the Kremlin-controlled Rozdolne District Court chose the measure of restraint for Balukh in the form of detention until June 19, 2018.
Balukh's defense lawyers and human rights defenders say that he became a victim of repression for his pro-Ukrainian views - due to the flag of Ukraine in the yard of his house.
The Ukrainian Foreign Ministry demanded that Balukh be immediately released.
op