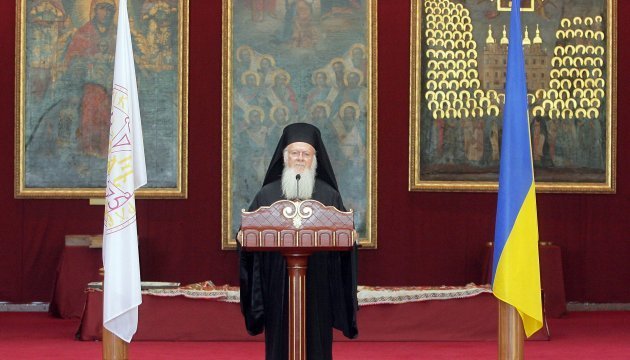 Ecumenical Patriarchate starts considering autocephaly for Ukrainian Orthodox Church
A meeting of the Holy and Sacred Synod of the Ecumenical Patriarchate took place at the residence of the Ecumenical Patriarch in the Phanar district in Istanbul on April 19-20, the press center of the Kyiv Patriarchate has reported on its Facebook page.
A communique by the Holy and Sacred Synod, following its work, notes that the Ecumenical Patriarchate considered issues related to the church situation in Ukraine and received from the church and civil authorities an appeal that requires the granting of autocephaly and decided to consider this issue by coordinating actions with its sister Orthodox Churches.
"In accordance with the Divine and Sacred Canons, as well as century-old ecclesiastical order and Holy Tradition, the Ecumenical Patriarchate concerns itself with the preservation of Pan-Orthodox unity and the care for the Orthodox Churches throughout the world - especially of the Ukrainian Orthodox Nation that has received the salvific Christian faith and holy baptism from Constantinople. Thus, as its true Mother Church, it examined matters pertaining to the ecclesiastical situation in Ukraine, as done in previous synodal sessions, and having received from ecclesiastical and civil authorities - representing millions of Ukrainian Orthodox Christians - a petition that requests the bestowal of autocephaly, decided to closely communicate and coordinate with its sister Orthodox Churches concerning this matter," reads the communique published on the website of the Ecumenical Patriarchate on April 22.
The press center of the Kyiv Patriarchate reported: "Given that the Constantinople Synod is generally limited to informing about its meetings without specifying the details, the above communique, by the very fact of its publication, is a significant positive signal of significant changes and the Ecumenical Patriarchate's readiness to bring the case to its logical positive conclusion."
op