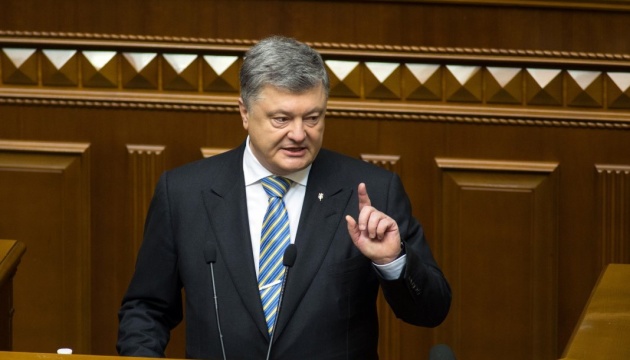 Autocephaly for UOC as important as visa-free travel, NATO membership - president
Ukrainian President Petro Poroshenko has said that the establishment of an independent local church is just as important to him as visa-free travel and membership in NATO.
He said this in his speech in the Verkhovna Rada on Thursday, an Ukrinform correspondent reported.
"This [issue of autocephaly] goes far beyond the church issue! It's about our ultimate independence from Moscow... Here is not only religion, here is geopolitics. To me the establishment of an independent local church is as important as the visa-free regime and the Association Agreement with the European Union, as our common struggle for membership in the European Union and NATO membership, which is still ahead. This is a question of national security and our defense in this hybrid war, because the Kremlin views the Russian church as a key tool of influence on Ukraine," Poroshenko said.
He stressed that he was determined to act in this case and "oppose everyone who would create obstacles to the national interests of Ukraine and will now try to disrupt cooperation with the Ecumenical Patriarchate."
"At the same time, I want to assure that a tomos, for which we hope so much and for which we are making every effort, and the emergence of a recognized single local church will in no way imply a violation of the constitutional principle of freedom of conscience. The single Orthodox local church will not become a state church," he said, adding that all believers have and will have the right to freely choose a specific temple, as well as specific church jurisdiction.
In addition, Poroshenko said that those who want to remain in the church that preserves unity with the Russian Orthodox Church also have the guaranteed right of their own choice.
As reported, Poroshenko said on April 17 that he had prepared an appeal to the Archbishop of Constantinople, Ecumenical Patriarch Bartholomew, with the request to issue a tomos for the autocephaly of the Orthodox Church in Ukraine, and also called on the Verkhovna Rada to support this appeal.
op