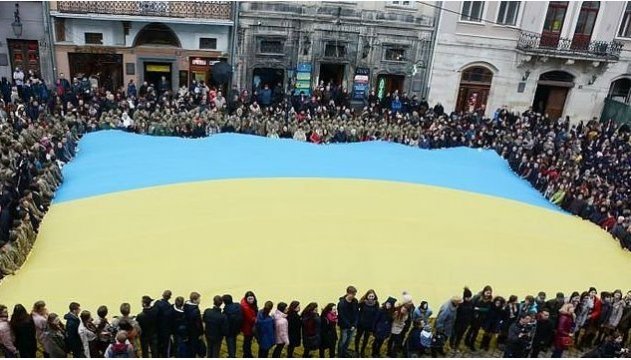 Thousands sing Ukraine's anthem in Lviv
Several thousand people have sung the national anthem of Ukraine on the Market Square in Lviv to mark the 153rd anniversary of the first public performance of the song "The glory and the freedom of Ukraine has not yet died," which became a symbol of the state, Lviv City Council's press service has reported.
"It has become an annual tradition in the city of Lviv, together with students, young people, public organizations, and activists to gather on this square and jointly perform the full version of the National Anthem of Ukraine. Today there were about 3,000-5,000 of our students, young people, representatives of public organizations who found the initiative and joined this event," said Maria Pylypchuk, acting head of the department of internal policy at the city council.
According to her, this year an 18-meter-long flag was produced for this event.
The national anthem was performed by vocalists of the Lviv-based Homin Municipal Choir together with young people, students, cadets, representatives of public organizations and authorities, Lviv mayor and employees of the city hall, educators and clergy.
op