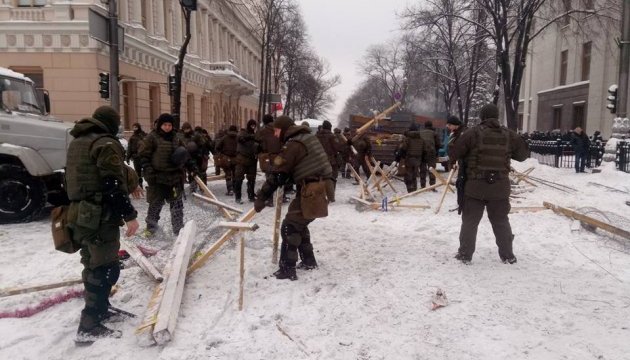 Fifty protesters detained near parliament – Kyiv police chief
Law enforcement officers have detained 50 participants in clashes outside the Verkhovna Rada, Kyiv police chief Andriy Kryshchenko has told the 112 Ukraine television channel.
"Fifty people have currently been detained and taken to the police department. Investigators are working with them now," he said.
According to Kryshchenko, in the tent camp police officers seized objects visually resembling hand grenades, as well as Molotov cocktails. "We are seizing them. Investigators are now inspecting the scene," he added.
Several protesters were injured as law enforcement officers took down the tent camp near the Verkhovna Rada in Kyiv on Saturday.
Kryshchenko said that the police had received a court decision with permission to conduct investigatory measures near the parliament.
"Operational and investigative measures were conducted. The police had a court decision to search for tents. Inhabitants of the tent camp were notified of that," he said.
As reported, on March 1, the Verkhovna Rada supported the presidential bill on the Anti-Corruption Court at first reading. This was the main requirement of the protesters near the parliament building.
On February 27, scuffles erupted between protesters and law enforcement officers outside the building of the Verkhovna Rada. Fourteen police officers were injured.
The first tents near the parliament were put up on October 17 during a rally in support of the "Big Political Reform."