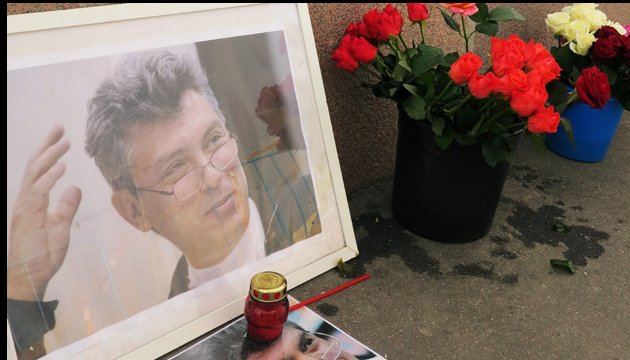 Russian opposition politician Boris Nemtsov (1959-2015) was killed in the center of Moscow near the Kremlin three years ago.
The murder occurred one day before the opposition's Spring March in Moscow, as well as ahead of the publication of his report "Putin and the War," in which he was about to demonstrate evidence of the participation of the Russian army in the war in Donbas and the involvement of Putin himself. The politician condemned Russia's occupation of the Ukrainian Crimea and called for ideological pressure on the Kremlin.
Nemtsov walked the way from a liberal reformer in Boris Yeltsin's team to one of the most irreconcilable opponents of the Putin regime. A graduate of the Radiophysics Faculty of the N. I. Lobachevsky State University in the city of Gorky and a candidate of physical and mathematical sciences, he managed to make a brilliant political career.
Nemtsov came to politics in 1990, when he was elected to the Supreme Soviet of the Russian Republic. In 1991, he became a representative of Boris Yeltsin in the Nizhny Novgorod region during presidential elections. In August 1991, he was appointed chairman of the state administration of the Nizhny Novgorod region (the youngest politician in such a position). The year 1997 was the peak in his political career. Yeltsin appointed Nemtsov First Deputy Prime Minister of the Russian Federation in charge of social issues. At the same time, he also served as the country's fuel and energy minister and headed a board of state representatives at Gazprom.
They talked about him as one of the brightest and most promising Russian politicians and Yeltsin's likely successor. But the economic crisis of August 1998 put an end to his presidential ambitions, and he was forced to resign. A new page in Nemtsov's biography began - the opposition. In 1999, Nemtsov, together with reformers Chubais and Gaidar, created the Union of Right Forces, and he was elected chairman of the political council. However, due to poor results in the 2004 elections, Nemtsov resigned from the post.
After that he worked in business and was considered one of the opposition leaders. He is a co-author of high-profile reports "Putin. Corruption," "Putin. The Life of a Galley Slave (palaces, yachts, cars, airplanes, and other accessories" and "Winter Olympics in the Subtropics."
Suspects in his murder were detained a few days after the crime. The jurors found guilty five Chechens - deputy commander in Chechnya's North Battalion Zaur Dadayev, his relative Anzor Gubashev, as well as Shadid Gubashev, Temirlan Eskerkhanov and Khamzat Babayev. In 2017, the court sentenced them to prison terms from 11 to 20 years. Those who ordered the assassination (they are called "unidentified individuals" in the materials of the investigation) were not named and not found.