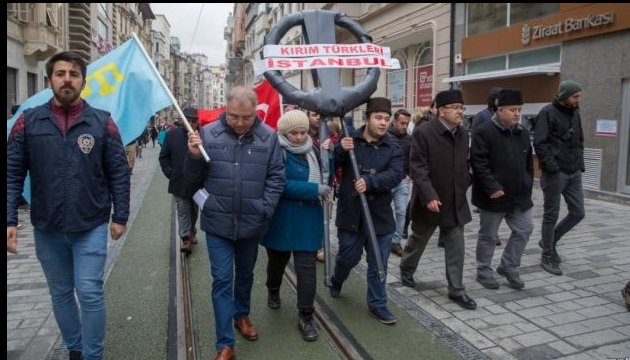 Protesters picket Russian Consulate in Istanbul due to annexation of Crimea
Residents of Istanbul and representatives of the Crimean Tatar diaspora from various cities and provinces of Turkey, the United States, and Romania picketed the building of the Russian consulate in the city due to Russia's annexation of Crimea on Sunday, February 25.
The participants in the rally put a black wreath near the building of the Russian Consulate in Istanbul, as a symbol of protest and disagreement, Crimea.Realities reports.
This gesture has become traditional for the Crimean Tatar diaspora in Turkey since Russia's annexation of Crimea in 2014.
During the rally, the participants chanted "Fascist Russia, away from Crimea," "Crimea will become a cemetery for invaders," "Crimea was and will remain Turkic," "Crimean Tatars are true owners of Crimea."
The protesters were joined by representatives of the Ukrainian, Azerbaijani diaspora and supporters of the people's nationalist party of Turkey, who call themselves "gray wolves."
"I came today to support our brothers - Tatars. Crimea is Ukraine. We are one state. We are one country. We are one people. We, as the Ukrainian diaspora of Istanbul, follow closely everything that is happening in Ukraine and in Crimea. We know that genocide of the Crimean Tatars is going on in Crimea. We know what kind of outrage the Russian government is committing in Crimea," said Olha Kovalenko, a representative of the Ukrainian diaspora in Istanbul.
The rally united people of all ages. The elderly residents of the city and young people were holding flags and chanted slogans. The picket lasted about an hour. Its participants read out a resolution stating that the Crimean Tatar diaspora in Turkey does not recognize annexation of Crimea and demands that Russia immediately liberate the peninsula and return Crimea to Ukraine.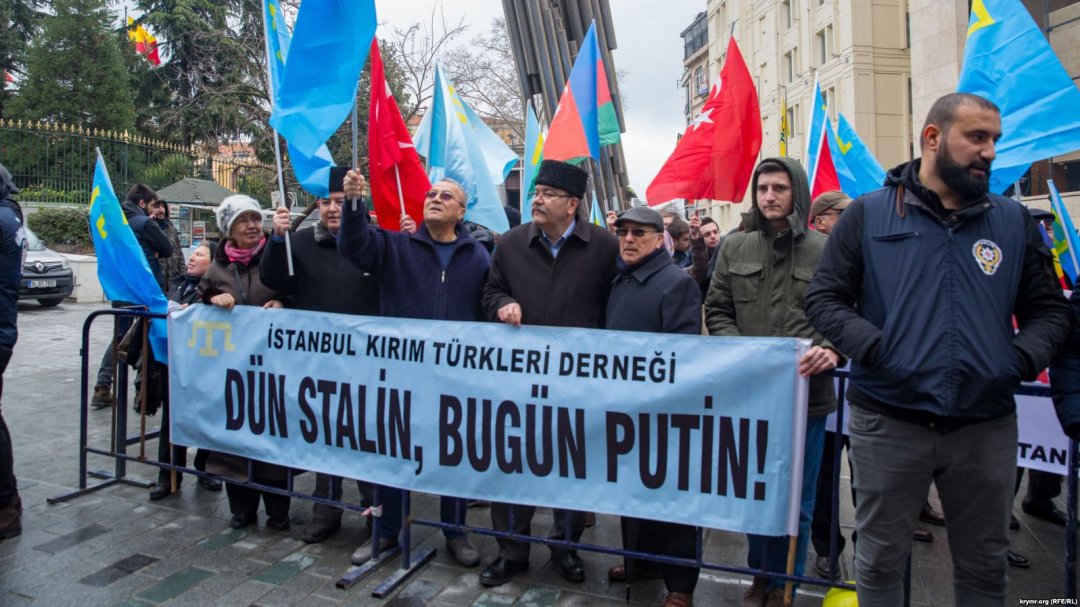 Ukraine proposes proclaiming February 26 the Day of Crimea's Resistance to Russian Occupation. On this day in 2014, a rally in support of the territorial integrity of Ukraine was held opposite the building of the Crimean Supreme Council. Pro-Russian activists, including those from the Russian Unity party, opposed the protesters.
op