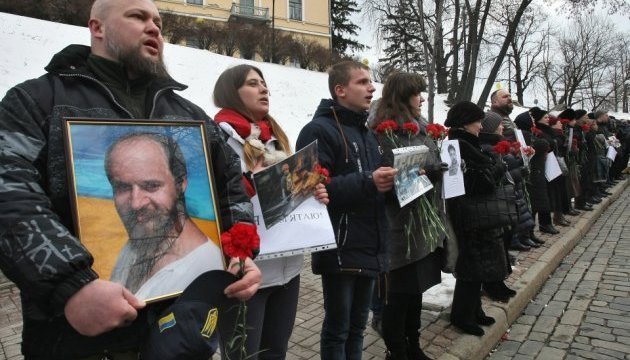 Heroes of Heavenly Hundred commemorated in Kyiv. Photos
The relatives of the killed activists of the Revolution of Dignity, the participants of Euromaidan and the activists held the flash mob I Remember to commemorate the Heroes of the Heavenly Hundred.
"The flash mob is called I Remember and this name completely reflects what we want to say: we remember, we do not have the right to forget what happened in 2014, we cannot forget what our loved ones went for, sometimes at the cost of their lives. They wanted a better fate for our country, they wanted their relatives to live in a beautiful European state," said representative of NGO "Family of Heroes of Heavenly Hundred" Daria Kulchytska, the daughter-in-law of deceased Volodymyr Kulchytsky, an Ukrinform correspondent reports.
The flash mob was opened with the performance of the National Anthem of Ukraine. About a hundred participants in the flash mob lined up in a human chain, which became a symbolic continuation of the Heavenly Hundred Avenue.
The activists laid flowers to the portraits of the Heroes of the Heavenly Hundred and to those places where the Heroes died.
On February 18-20, a number of memorial and solemn events dedicated to the Day of the Heroes of the Heavenly Hundred took place in Kyiv with the participation of representatives of the government bodies and the public.
The Day of the Heroes of the Heavenly Hundred is marked in Ukraine annually on February 20.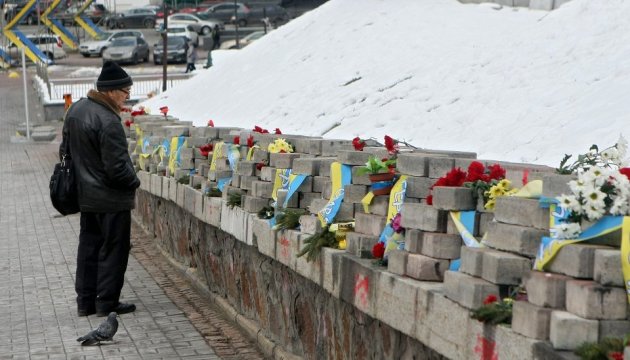 ol