Volodymyr Balukh: Ukraine, do not give up!
A few facts from the Balukh case that should be remembered
On January 16, Ukrainian patriot Volodymyr Balukh was sentenced to three years and seven months in a penal colony, as well as to a fine of 10,000 Russian rubles - for his civilian position, for the Ukrainian flag, for the courage to resist the regime. This is a prison term for dignity, which any civilized country in the world regards as a matter of honor and a sign of high moral qualities. All Balukh did was raise a Ukrainian flag on the roof of his house, and when they demanded that it be removed, he also put up a street plaque with the inscription "18 Heavenly Hundred Heroes Street."
Those who closely followed Russia's persecution of Volodymyr Balukh probably know his case in the smallest details. Here are the key facts of the biography of a simple, ordinary Ukrainian patriot and the most flagrant facts of lawlessness and injustice that became revenge for not accepting occupation of Crimea.
The life of Volodymyr Balukh is a vivid example of how Russia, having occupied Crimea, has itself grown for Ukraine not hybrid, but true heroes.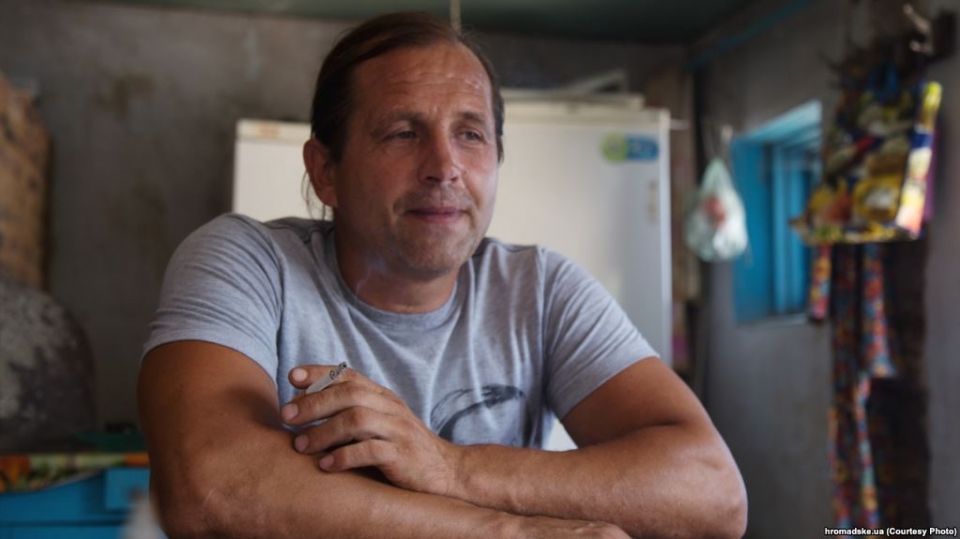 Balukh was born and worked all his life in the village of Serebrianka. He will turn 47 on February 8, 2018. With a diploma from Simferopol Agriculture University, he worked at a local collective farm and started began to grow wheat on two of his land plots. Yes, he is an ordinary farmer who grew bread, but not a narrow-minded person who was not interested in anything. For example, in 2006 and 2010, Volodymyr Balukh ran for the Verkhovna Rada of the Autonomous Republic of Crimea from the Congress of Ukrainian Nationalists. If it were not an extreme situation with occupation of Crimea, Balukh, perhaps, would have been a farmer for the rest of his life.
However, he became a hero against which Russia, in addition to the FSB and prison, has no weapon. The FSB failed to force him to renounce Ukrainian citizenship, the flag of his country, and the prison did not affect his convictions.
The occupation "administration" of Serebrianka Village Council suddenly realized that Balukh, after Russia's arrival in Crimea, became a rogue and universal evil. The leadership of the village and a local district police officer provided a negative reference about the farmer. He was hastily described as alcoholic, rowdy and an immoral type. However, there were courageous fellow villagers who denied this false description.
Six people agreed to testify in favor of Balukh, but in the end only four managed to come to the "court" (others were not released from work, but the court refused to change the time of the court session). Fellow villagers said that allegations by the district police officer and village administration that Balukh abused alcohol, used violence to family members and did not participate in the public life of the village were untrue. Witnesses also said that the entrance to Balukh's household, where they found "ammunition," was not protected by a fence and dogs, that is anyone could enter it freely.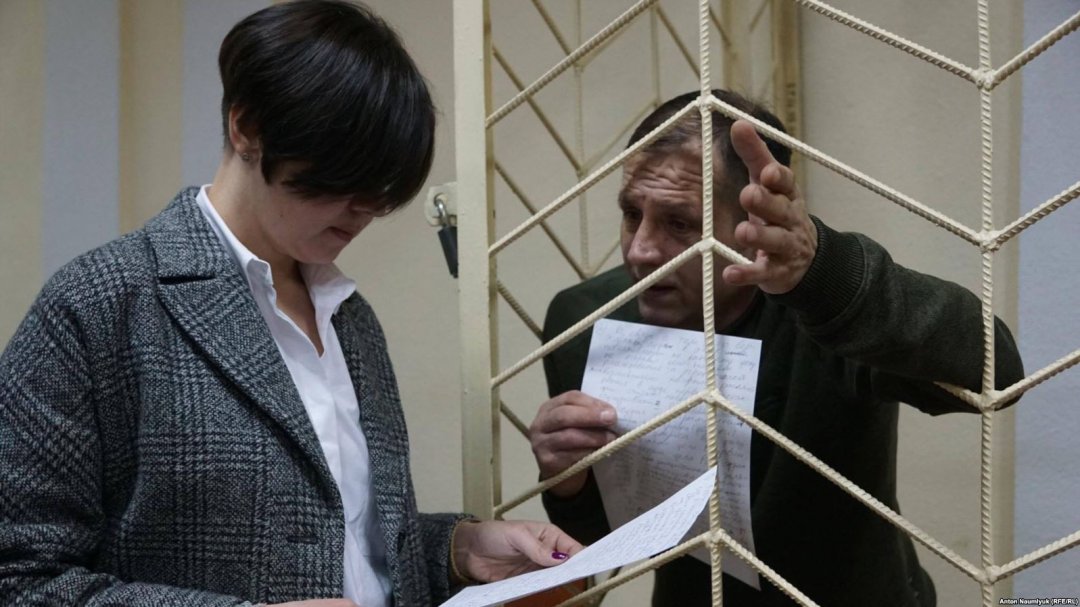 Weapons and ammunition, found at the attic of Balukh's house, were produced at the Barnaul cartridge factory. The fact that these objects are not "a needle in a haystack" and that it is easy to monitor their movement were known by judges and prosecution. On January 12, 2018, the court rejected a request from Balukh's defense team to send an inquiry to the Barnaul cartridge factory for a fact-finding study: when, where and to whom the ammunition was sent.
According to Balukh's lawyer, Taras Omelchenko, "there is no evidence that these cartridges and ammunition belong to my client." The experts did not even find Balukh's fingerprints, but in the case they appear as fingerprints of an unidentified person, in an unidentified time under unidentified circumstances.
Balukh says that cartridges and other ammunition were planted to him, and evidence of this is that operatives searched for these items only in a certain place.
"The simplest evidence that I have no relation to this is that the search was conducted at two addresses. However, in the house where I live with my mother, no attic room was examined, although there are four of them. And in the house of my common-law wife, the search ended immediately as soon as they found something in the attic. There was no further examination of other premises. It's a vivid example that they came to find what they planted before," Balukh said.
In addition, Balukh said, nobody examined his repeated testimony that the security forces repeatedly threatened to plant all of these items to him.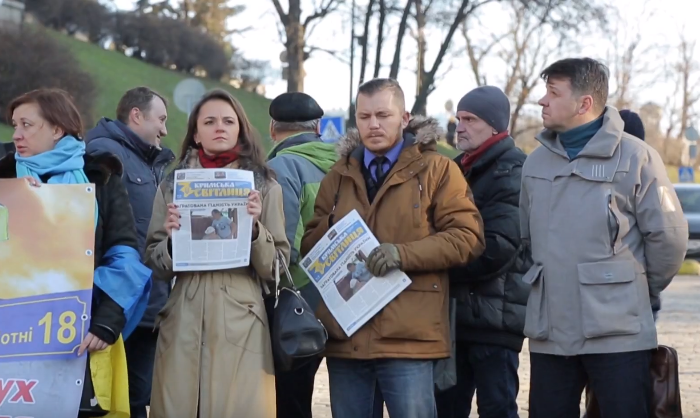 Balukh's defense team decided to file a petition for the questioning of the so-called head of the FSB office in Crimea, Palagin, and two other "operational officers" - Leonov and Zabara. They had to explain how it turned out that a request to the "court" for a search in Balukh's house, dated December 8, 2016, was made with reference to operational information from December 9, 2016.
The "court" did not interfere with the interrogation of "high-ranking individuals," but did not react at all to the failure to appear in "court" of Palagin himself and two of his subordinates. To find out the reasons for a difference in dates, Balukh's defense lawyers decided to initiate a handwriting examination. However, the "court" rejected a petition from lawyers without explanation.
According to Balukh's lawyer, Dmytro Dinze, the state prosecutor "has systematically ignored cases of violation of the current legislation" for six months, while Judge Tedeyeva "has already twice passed the decisions that were later cancelled by the Supreme Court of Crimea."
Archbishop of Simferopol and Crimea (UOC-KP) Klyment, who constantly supported Balukh in the courts, criticized the Ukrainian authorities after a final verdict was announced. He believes that the authorities in Kyiv should answer the question: "What did they do for believers of the Kyiv Patriarchate in Crimea? What did they do to protect Baluch? This also concerns the Crimean Tatars, because when mosques are attacked, they keep silent as if there are no mosques at all. They keep silent when 'believers' professing Islam are detained... Because of this silence people simply die."
According to Klyment, "we do all that is required of us, but we are not all-powerful, and we need help."
"We need to support Balukh's family, his mother, who can barely walk, and his wife. I have a question to the Ministry for Temporarily Occupied Territories: 'Where's the support of all those tried now, where's the money to support their families?'"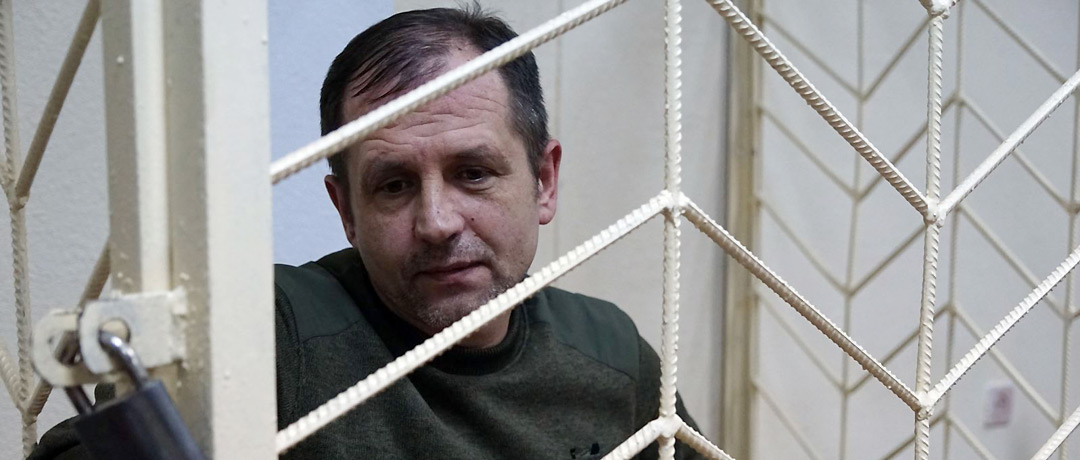 Having lost such people as Balukh, today Ukraine can finally lose both Crimea and all people in Crimea who believe in Ukraine. Balukh, while appealing to the people of Ukraine, asked them not to give up.
"I want to wish Ukraine not to give up and to fight. The people of Ukraine should fight for the fact that so many people have given up their lives, the best people of this country," he said in an interview after the verdict was pronounced.
In the same interview Balukh asked people not to make him a hero, as he is not going to die.
"Guys, everything is fine, it's not about death. I think that everything will be resolved soon... Therefore, I don't think that what happens to me is a sort of sacrifice... We'll win," Balukh said.
He spoke these words calmly and without pathos, knowing that his family remains at home, where he was a pillar, that his old mother could never see him again, that his arrest and imprisonment are a burden, first of all, on his family.
However, knowing how he is supported by ordinary Ukrainians - both in mainland Ukraine and in Crimea - and observing how firm and confident he is, you understand that you can remain a Ukrainian in Crimea and express your opinion.
If the opinion of each of us about what he has done today to liberate Crimea becomes stronger than fear, then Balukh will turn out to be right. At the same time, while people live in fear, the Ukrainian activist is lonely, weak and not understandable by anyone.
About 30 Crimean law enforcement officers are involved in the Balukh case. The Crimean prosecutor's office has already placed two of them on the wanted list.
It is worth noting that criminal cases that are opened against Crimean collaborators affect them and make them nervous. Criminal cases against representatives of the occupation authorities, their inclusion in the Myryotvorets (Peacemaker) lists, the announcement of sanctions against them often become an informational occasion for speaking on this subject both in Crimea and in Russia, although often with a note of proud insults.
Nevertheless, being involved in criminal cases is certainly not very cozy, so the faces of 'security forces' are often hidden behind masks, and court sessions are held behind closed doors.
So information about those who authorize arrests and searches, who make certain court decisions, and who are hiding behind the masks of law enforcement officers is very important, and it needs to be used as much as possible. Involvement in pogroms, searches, kidnapping, unfair trials and arrests should be a dangerous task for occupiers and collaborators, should be perceived as something that can be seriously paid, and not just getting promotion from Moscow. Then, after a while, this involvement will definitely be considered a shame.
Zera Ashirova, Kyiv