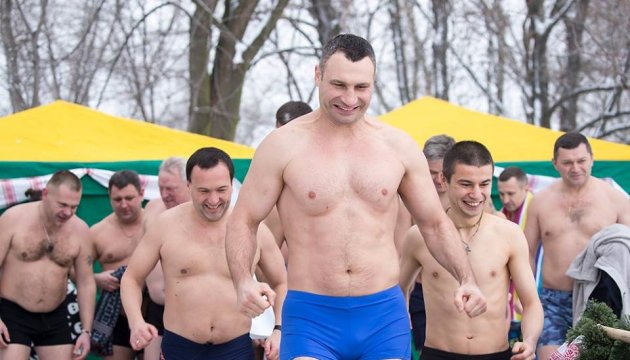 Kyiv city mayor Vitali Klitschko dives into water to celebrate Orthodox Epiphany. Photos
Kyiv city mayor Vitali Klitschko, heads of Kyiv districts' administrations, deputy mayors and several Ukrainian and Kyiv city lawmakers have dived into the freezing water to celebrate the Orthodox holiday of Epiphany.
"The water is believed to acquire healing properties on this day. Let the water help us to become tempered and healthier, bring us positive thoughts and true faith in God and Ukraine!" Klitschko said after he dived into the Epiphany water, the press service of the mayor reports.
On the Epiphany day celebrated annually on January 19, the Eastern Christians commemorate the baptism of Jesus on both sides of the Jordan River, seen as his manifestation to the world as the Son of God.
ol