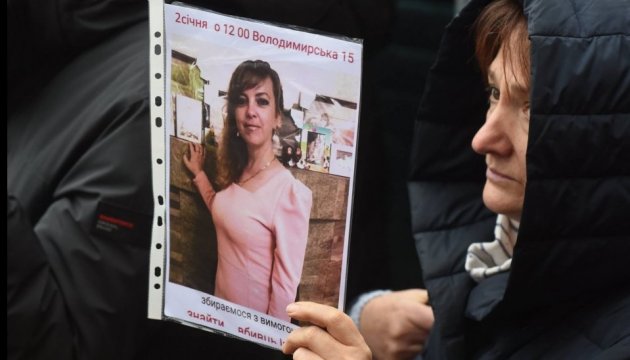 President thanks police for solving lawyer Nozdrovska's murder
Ukrainian President Petro Poroshenko has said that a quick reaction in the search and detention of a suspect in the murder of human rights activist Iryna Nozdrovska is a sign of the effectiveness of the work of the National Police of Ukraine.
He said this at a meeting with the leadership of the National Police, during which he received a report on the investigation into this high-profile murder, the press service of the head of state reported.
"I think that such a quick solving [of Nozdrovska's murder] is a sign of extremely high potential possessed by the reformed National Police," Poroshenko said, adding that the solving of this case "does credit to the staff of the National Police and investigators who were engaged in this case."
The president noted that police investigators worked around-the-clock to solve the case and expressed confidence that the solving of this crime was increasing trust in the authorities and trust in the National Police.
"Our meeting is a sign of very serious evidence gathered by representatives of the National Police and representatives of the prosecutor's office and the absolute absence of any components of political PR in this high-profile case," he said.
He also recalled that the murder of human rights defender Iryna Nozdrovska had caused public outcry both in Ukrainian society and internationally.
"The quick reaction and effective measures in the search and detention of the suspect are a sign of the quality of work of the National Police," Poroshenko added.
At the same time, he said that the same effectiveness should be demonstrated in the investigation into other cases, in particular, concerning the murder of journalist Pavlo Sheremet.
As Ukrinform reported, human rights activist and lawyer Nozdrovska was found dead in Vyshgorod district, Kyiv region, on January 1, 2018. It is known that earlier she was engaged in the case on the death of her sister, Svitlana Sapatynska, who was killed by a car driven by Dmytro Rossoshansky, the nephew of the then head of the Vyshgorod District Court, in the village of Demydiv on September 30, 2015.
On January 8, law enforcement officers detained and handed a notice of suspicion to a man suspected of killing Nozdrovska.
Police have not yet named the detainee. An adviser to the interior minister, Zorian Shkiriak, only confirmed that this was a close relative of Rossoshansky.
op