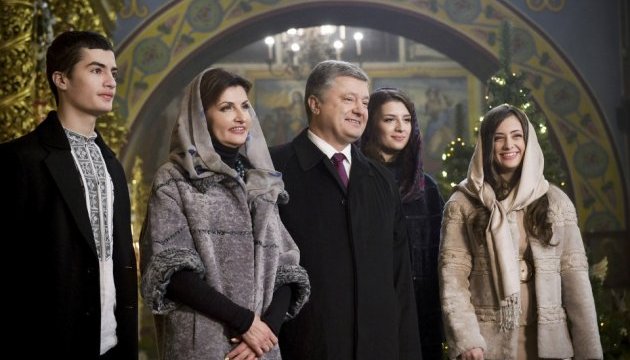 Poroshenko: Wherever we celebrate Christmas, let's remember Ukraine's defenders
Christmas is a spiritual and national holiday, which symbolizes the birth of hope for salvation, peace and justice, Ukrainian President Petro Poroshenko has said in his Christmas greeting posted on the official website of the head of state.
"Christmas is the birth of hope for salvation, hope for peace, and hope for justice. This is a spiritual and national holiday," the president said.
He added that for more than a thousand years Ukrainians had celebrated this day in a special manner. In particular, it has long been a tradition of not only singing Christmas carols, but also reproducing the birth of the Son of God in nativity scene puppet theaters. It has also been a tradition since ancient times to serve a special dish – kutia, which symbolizes wealth shared with everyone.
"We preserve our customs. They make us special and different from others," he said.
Poroshenko called on fellow citizens, wherever they stay, to remember those who defend Ukraine and to pray for them, asking God to give them health and strength.
The president's wife, Maryna Poroshenko, in turn, wished happiness to Ukrainians and a happy future to Ukraine.
"Let us remember with warm words those who live in our hearts! Let us thank our parents, children, relatives, friends and colleagues for being together!" she said.