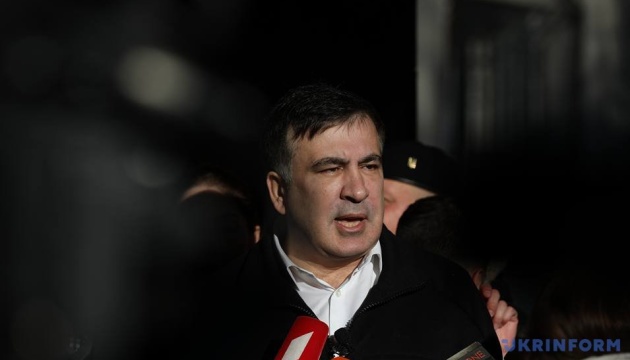 Saakashvili says he will not come to SBU for questioning
Former Head of Odesa Regional State Administration Mikheil Saakashvili has stated that he will not come to the Security Service of Ukraine (SBU) for questioning.
He said this outside the SBU building in Kyiv on Tuesday, an Ukrinform correspondent reports.
"Article 245 of the Criminal Procedure Code of Ukraine has been violated... They violate the rules. It is prohibited by the Criminal Procedure Code of Ukraine to invite a suspect or defendant to conduct two investigative actions simultaneously," Saakashvili said, adding that he would not go to the SBU for questioning on Tuesday.
Saakashvili's lawyer, Ruslan Chornolutsky, said that according to the summons, two procedural investigative actions - interrogation and obtaining samples for examination - had be conducted on December 26.
"We believe that these investigative actions cannot be conducted simultaneously. This is indicated in the criminal procedure law. Also, the investigator did not specify which samples will be taken from Saakashvili for future examination," the lawyer said.
He added that he now asks the SBU to separate and postpone these investigative actions, and to send a separate summons to Saakashvili for each investigative action.
"That is, we are ready to separately go for questioning, and we also ask you to send us a summons for a separate investigative action - obtaining samples for examination. We believe that the Criminal Procedure Code's requirements will be met only in this way. We filed a petition for the postponement of investigative actions due to the unlawful combination of individual investigative actions in one day under one summons," the lawyer said.
On December 18, Saakashvili said outside the building of the Prosecutor General's Office that his case should be considered by the SBU and that only then he would give evidence.
On December 22 Saakashvili was to come for interrogation to the Security Service of Ukraine (SBU), but lawyers sent a request to the SBU to postpone his interrogation due to the consideration of an appeal of the Prosecutor General's Office at Kyiv Court of Appeal.
Saakashvili, who was stripped of Ukrainian citizenship in July 2017, was detained in Kyiv on December 5 as part of a criminal case on assisting members of criminal organizations and concealing their criminal activity.
On December 11, Pechersky District Court released Saakashvili for the duration of the investigation, without choosing any measure of restraint for him.
On December 15, the Prosecutor General's Office filed a complaint with Kyiv Court of Appeal against the trial court's refusal to place Saakashvili under house arrest.
At a session on December 22, Kyiv Court of Appeal postponed the consideration of the complaint until January 3.
op